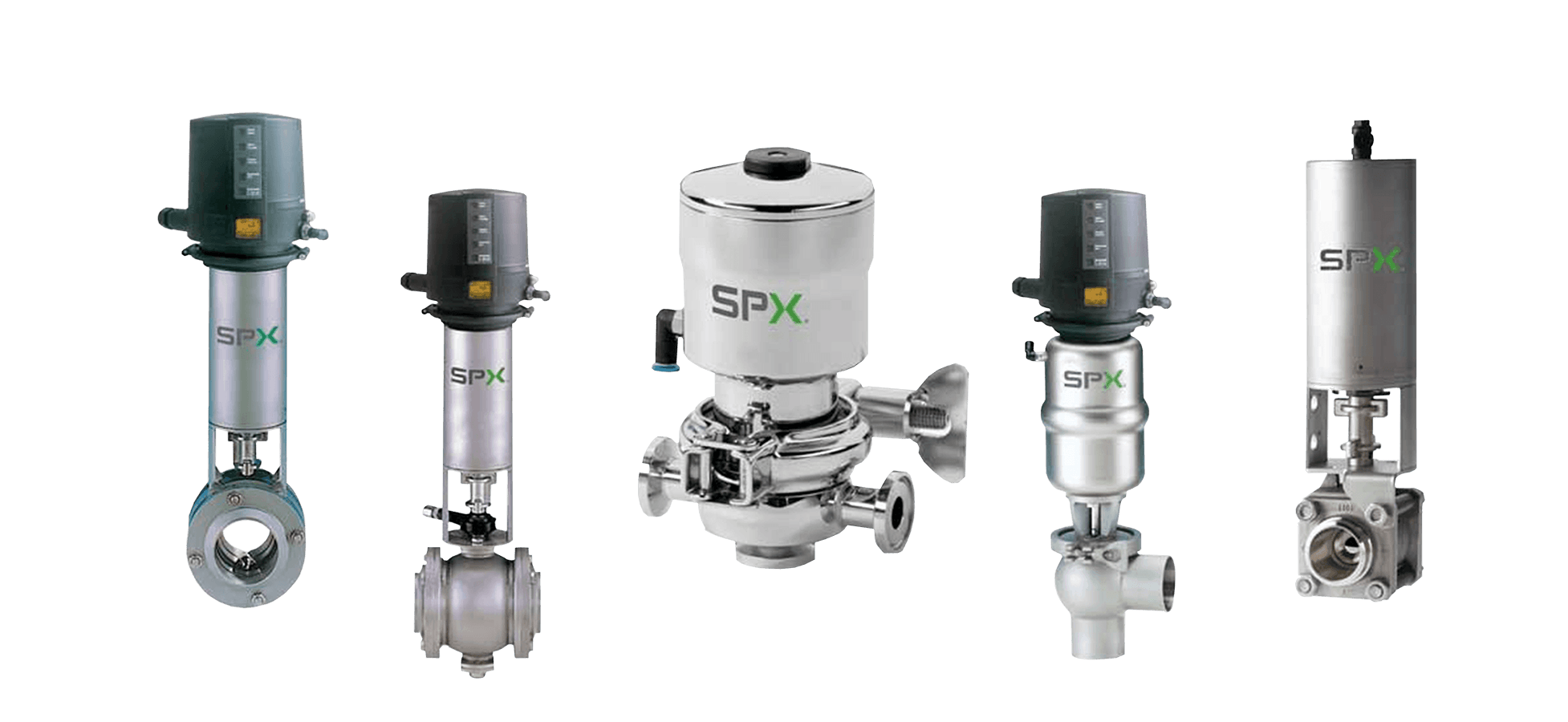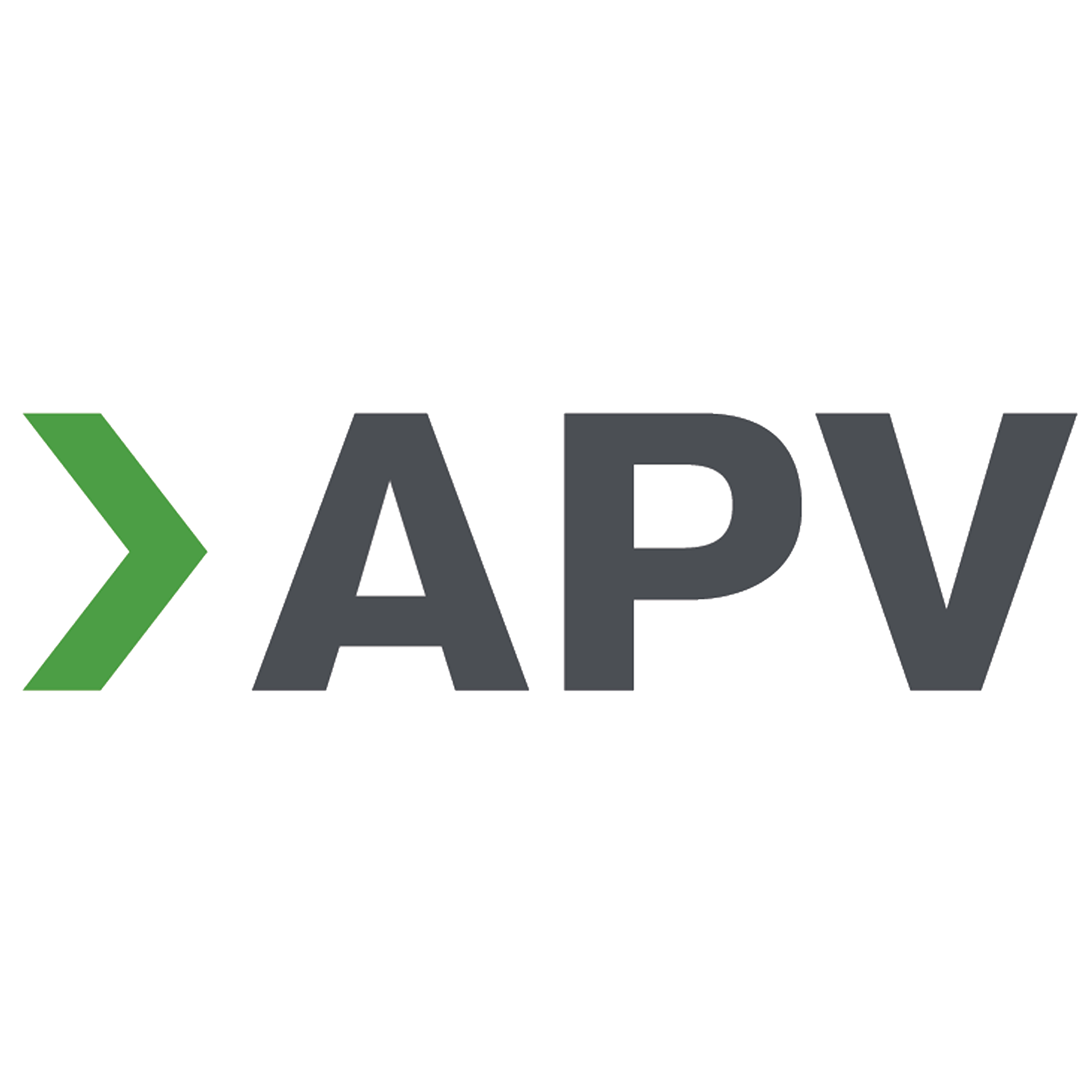 SPX FLOW - APV Seat Valve
Innovative
Valve Design
SPX FLOW is a leading innovator of solutions with decades of experience in valve design. Years of intensive product development on a worldwide scale, has enabled SPX FLOW to offer a complete range of hygienic valves in the brewery, dairy, food, beverage, chemical, health care and pharmaceutical industries.
SPX FLOW APV's seat valve product line includes: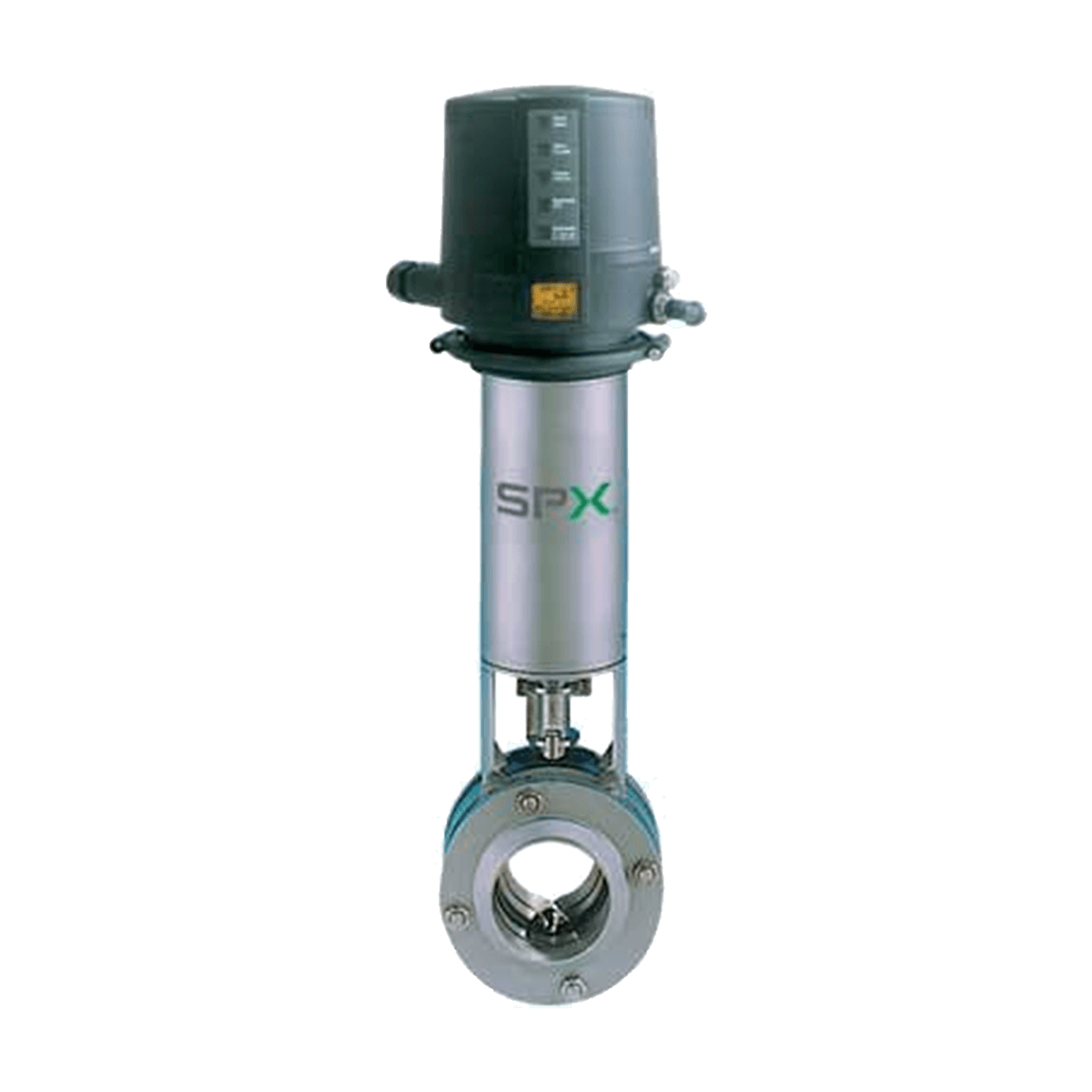 APV SV & SVS Butterfly Valve
The APV SV & SVS butterfly valves from SPX FLOW are stop valves which can be actuated either manually or pneumatically. The valves are very robust and reliable and the space saving design makes them ideal for nearly all applications - a flexible valve which is very easy to install and to service.
Main advantages:
- Product passages are smooth and the special seals ensure thorough cleaning.
- Unique metallic stop prevents the valve flanges from being tightened too much and protects the valve seal from mechanical over-stress thus improving seal lifetime.
- One actuator covers all diameters from 1" (25 mm) - 4" (100 mm).
- Slide bearings on the pivots of the discs increase operating reliability.
Actuation Demonstration
This 20 second video demonstrates how the APV DELTA SV Butterfly valve actuates by opening and closing the unique metallic stop.
---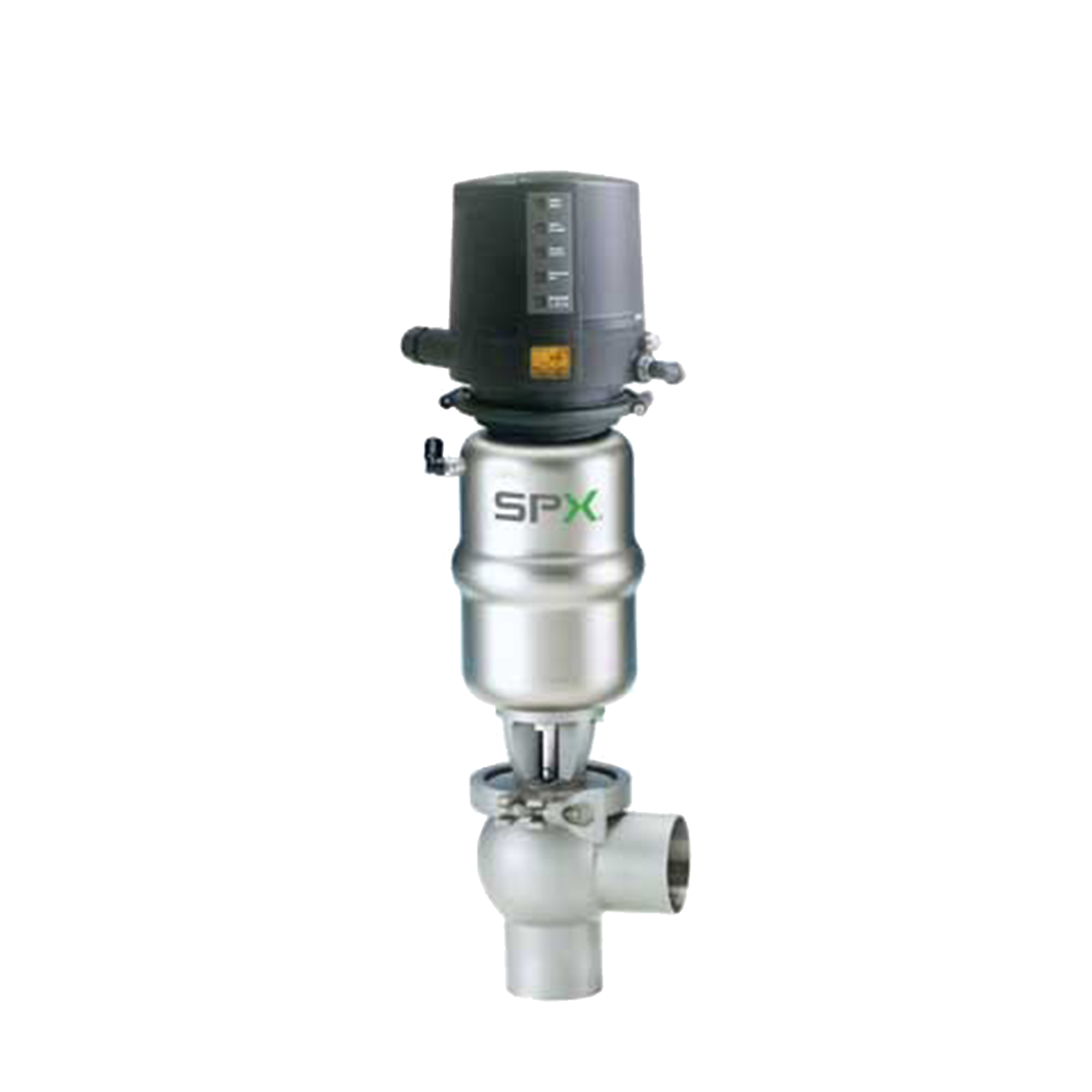 APV SW4 Single Seat Valve
When designing this valve, great emphasis was given to facilitating valve handling, installation and maintenance. Its hygienic design makes it ideal for applications in the dairy, beverage and brewing industries as well as in the chemical and pharmaceutical industries.
Main features:
- Extra wall thickness of valve housing reduces stress in the seat area
- Wear resistant elastomer/PTFE shaft seal and bearings increase seal lifetime
- Installation and maintenance convenience
- Profile seals with marking for easy identification
- Ball shaped housing prevents sump or dome, reducing CIP cleaning times
- EHEDG certified, 3-A approved
---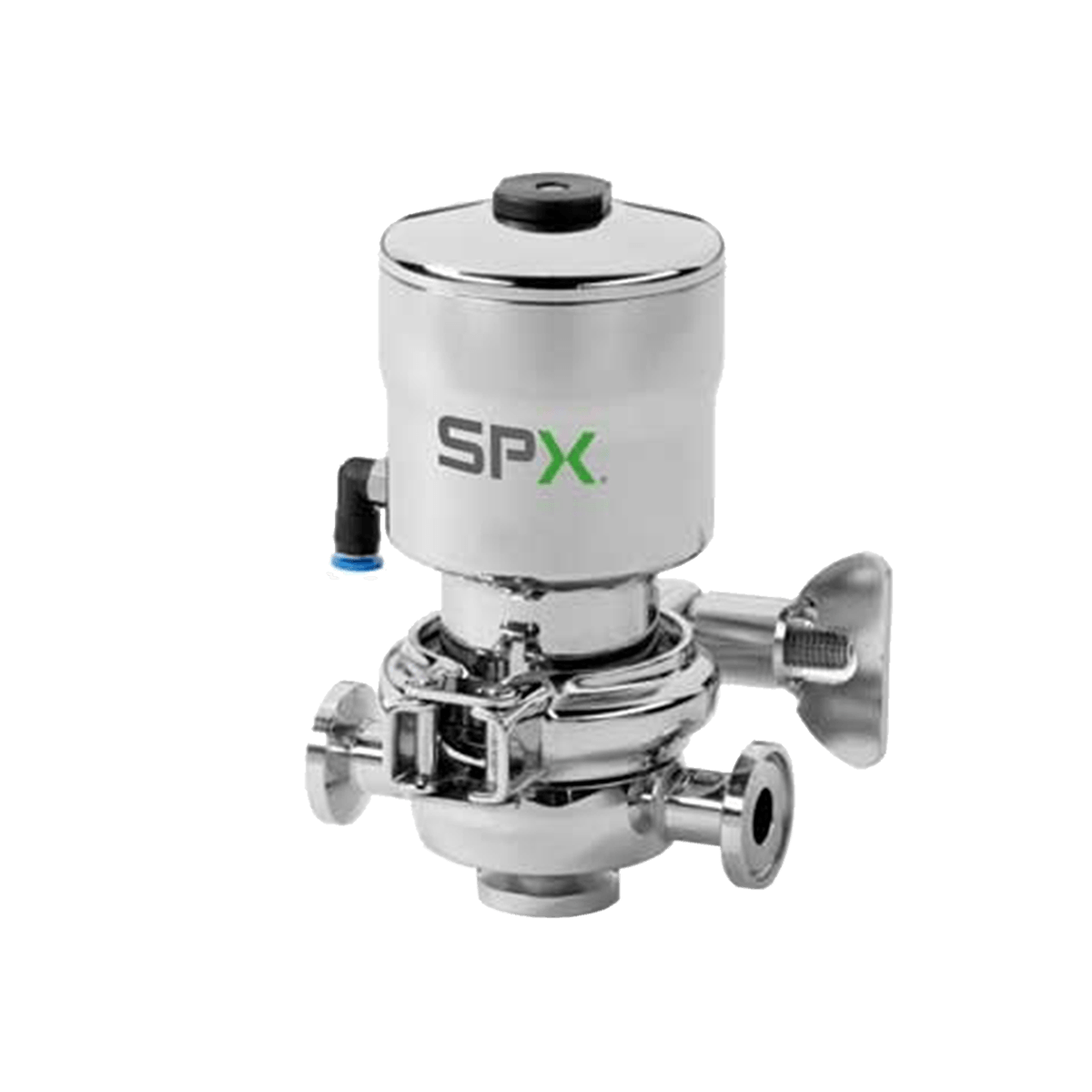 APV AP1 Aseptic Valve
The APV AP1 diaphragm valve range offers optimum protection of the product in aseptic applications of the pharmaceutical, biotechnological, cosmetics and food industries. Product safety is provided by the hermetic separation of the product chamber from the environment (atmosphere) by a flexible diaphragm shaft.
Main advantages:
- FDA-approved TFM/PTFE diaphragm providing use of many cleaning agents and products
- Flat diaphragm for smooth product flow, reducing pressure drops, cleaning time and CIP consumption
- 3-A approved
---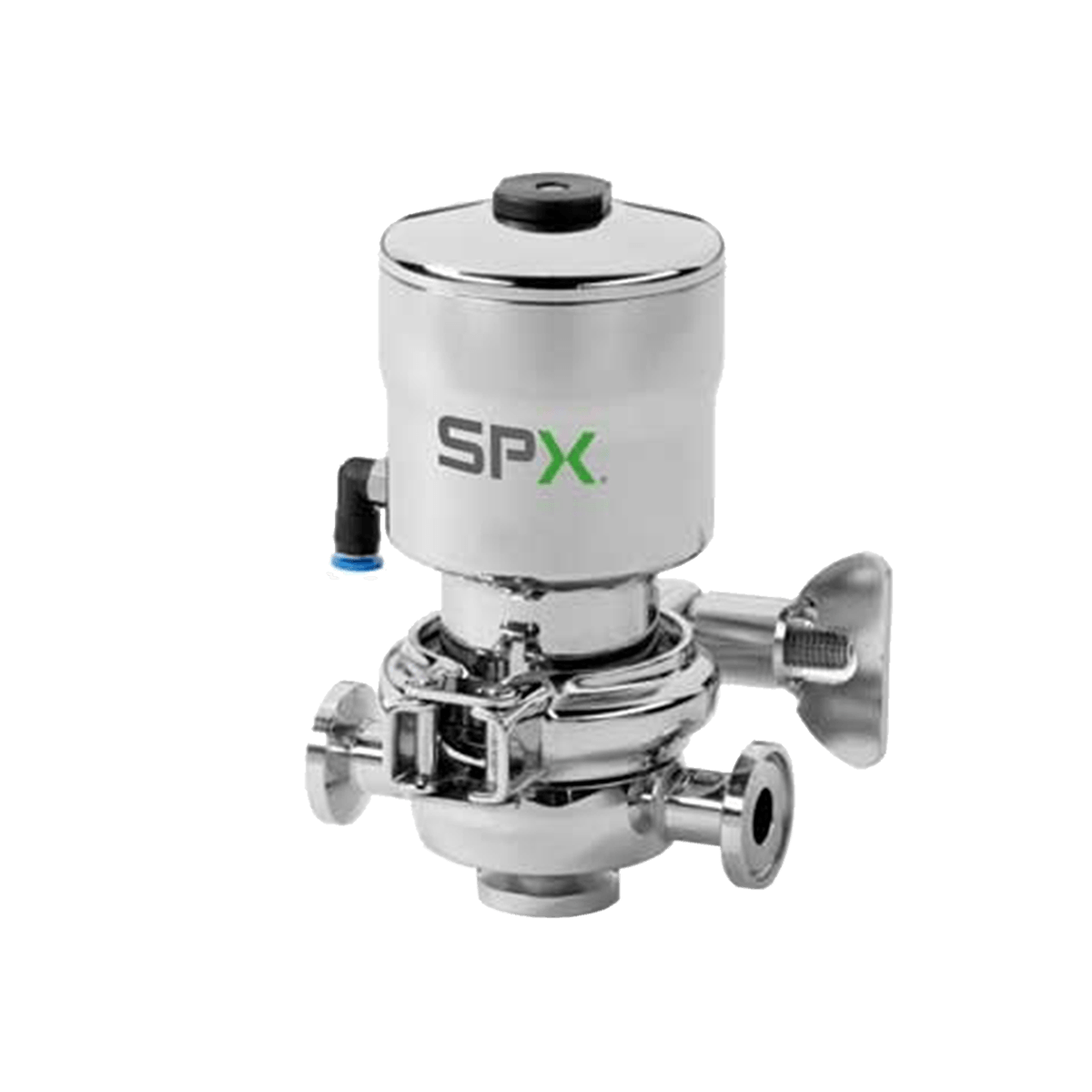 APV DKR2 Double Seat Ball Valve
Double seat ball valves APV DELTA DKR2 are proving their worth day by day in the fields of brewing, beverage technology, dairies and the food industry as well as in chemistry. The field of application of the APV DELTA DKR2 valve comprises the separation of two line sections with different fluids by two independent seals with intermediate leakage chamber and free drain to the atmosphere.
Main features:
- Safe separation of incompatible fluids by means of two independent seat seals
- Suited for pigging systems
- Timely detection of leakages in the event of seal wear
- Easy seal replacement
- Water hammer safe design
- Hygienic design ensures no product residues
- CIP cleaning connections to flush the leakage chamber
- All product contact parts are made of AISI 316L / 1.4404 (DIN EN 100888) stainless steel
DKR Double Seat Ball Valve Open and Closed Positions
Animation shows how the DKR Double Seat Ball Valve opens and closes. This is a unique ball valve for hygienic application and is protected by patent. The valve closes uses spring force. Two seals in combination with pressures-less leakage chamber ensure complete separation of incompatible fluids.
---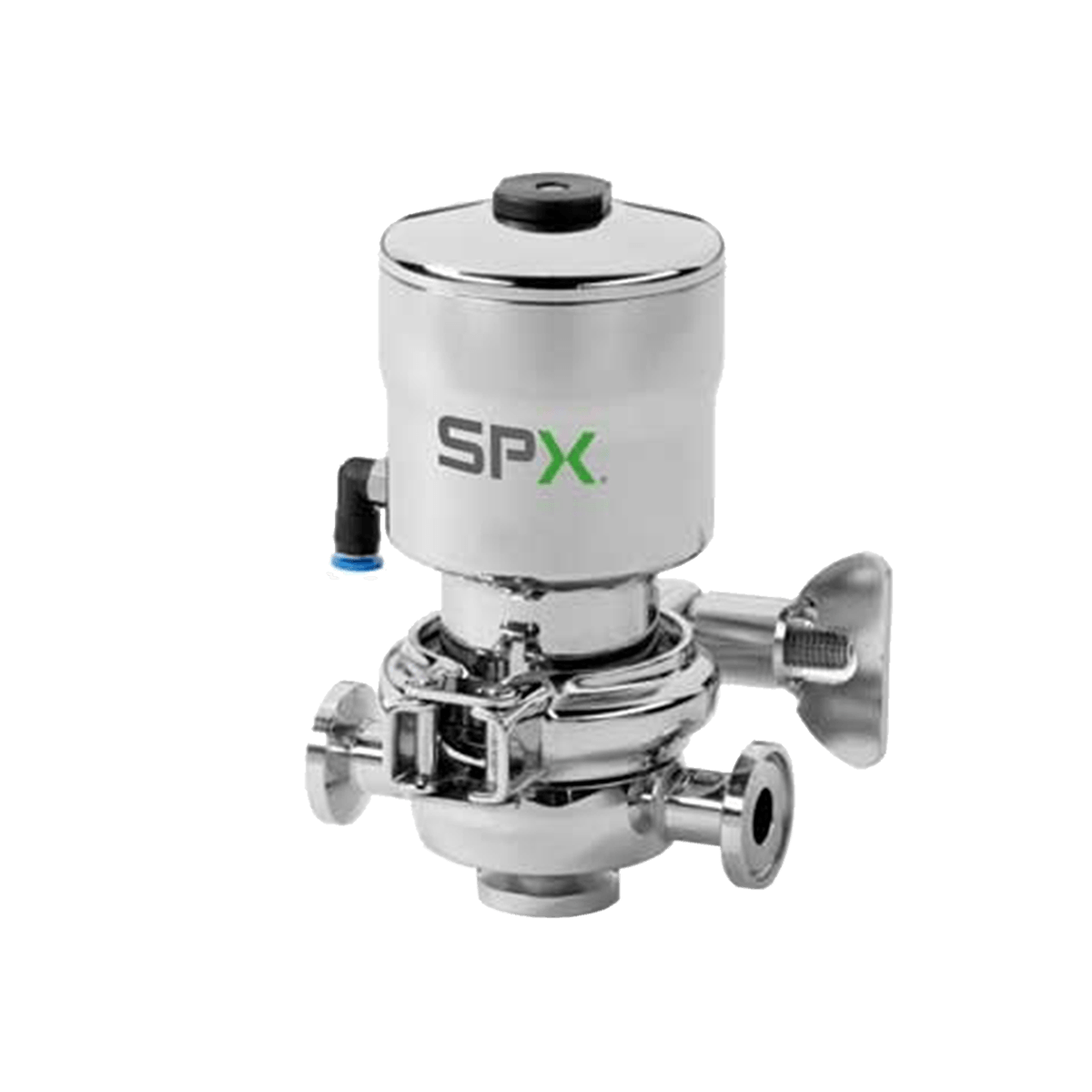 APV KHV Ball Valve
The DELTA KHV valve is a single-seat ball valve for non-hygienic applications, e.g. steam or glycol applications. It is a cost effective alternative to the standard APV hygienic valves. Due to the use of high-quality stainless steel and suitable seal materials which comply with the respective requirements, the KHV (venturi) and KHI (integral) ball valves are used in the food, beverage, pharmaceutical and chemical industry.
As the ball valve possesses dead spaces which cannot be cleaned, in food processing applications it should be used only in CIP areas or in utility lines (water, steam, glycol)!
---
APEQ Process is an official distributor of SPX FLOW, APV in Malaysia.
Need a price quotation?
Enquire now
>
About SPX FLOW and APV
Based in Charlotte, North Carolina, SPX FLOW innovates with customers to help feed and enhance the world by designing, delivering and servicing high value solutions at the heart of growing and sustaining our diverse communities.
APV, an SPX FLOW Brand, provides a unique range of highly functional solutions, systems and products that address key business drivers. SPX FLOW bases its APV solutions on advanced technology products including pumps, valves, homogenizers, mixers and heat exchangers, as well as production efficiency experience, development expertise, maintenance management and regulatory compliance.