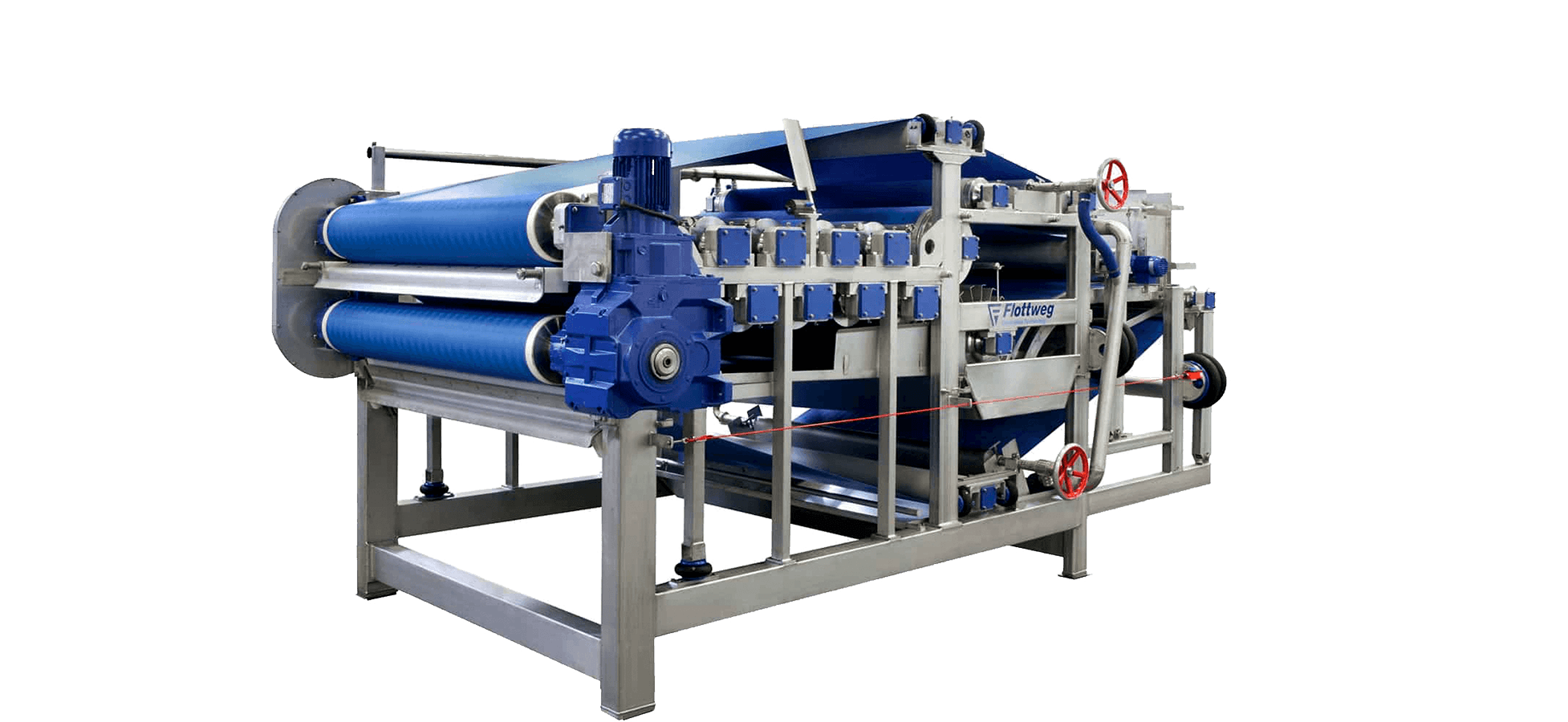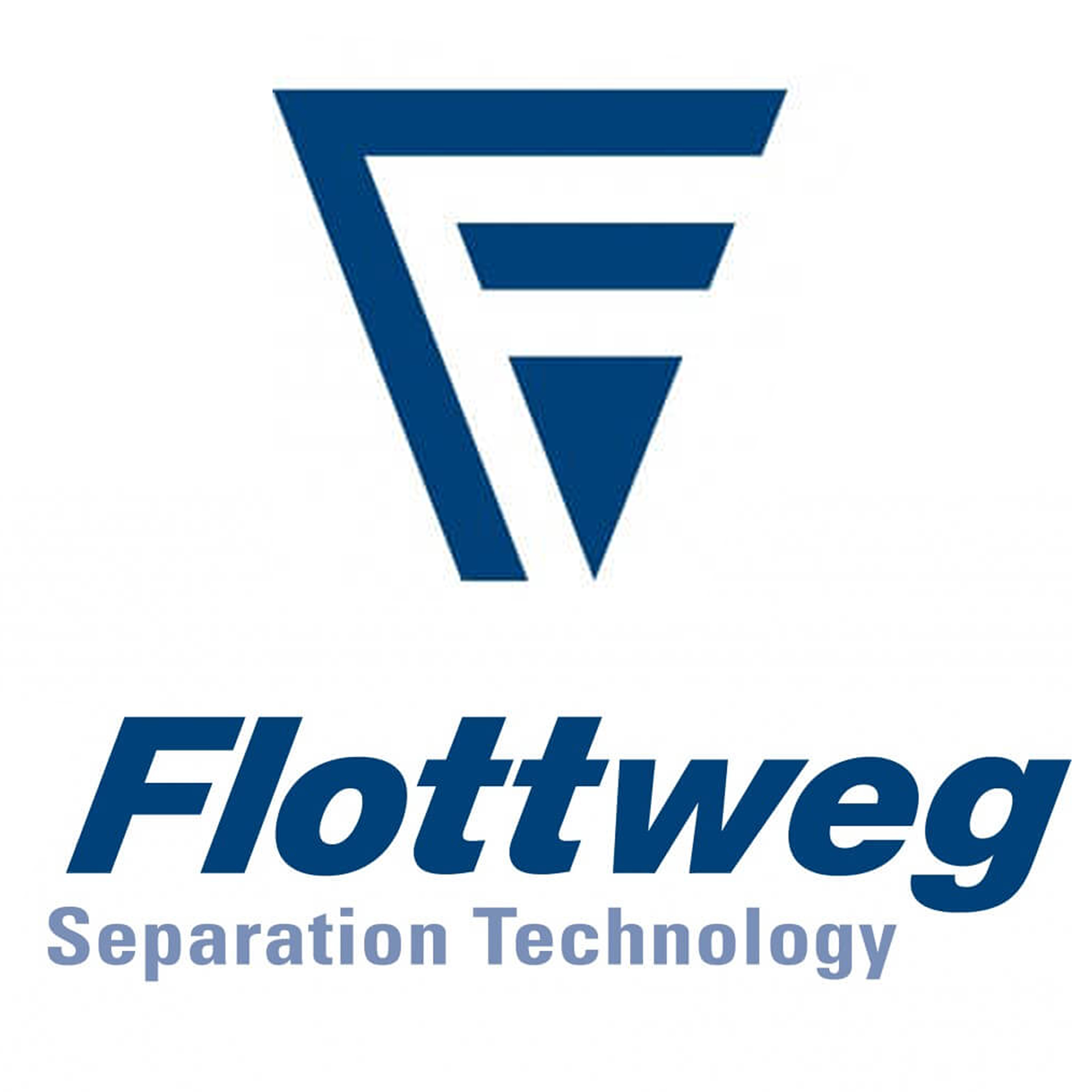 Flottweg® Belt Press
Engineered
For Your Success
The Flottweg belt press represents yet another mechanical separation technology.
The application of belt presses include:
Juice manufacture: Fruit juice (direct juice), concentrate and vegetable juice
Dewatering of brewer's grains
Algae extract or herb extract
Coffee grounds, soya or starch
Additional applications in the areas of foodstuffs, chemicals and pharmaceuticals
What is a Flottweg Belt Press?
Flottweg belt presses are suitable for various applications in mechanical separation technology: juice manufacture, fruit juice, direct juice, concentrate and vegetable juice, dewatering of brewer's grains, algae extract, coffee grounds, herb extracts, soya, starch, and additional applications in the areas of foodstuffs, chemicals and pharmaceuticals.
---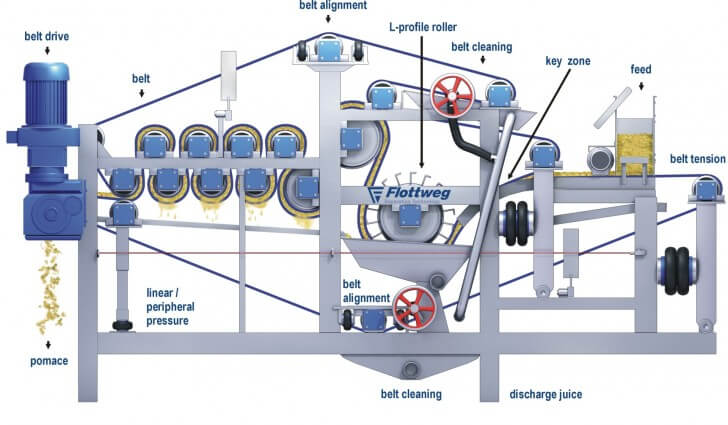 Mode Of Function Of The Flottweg Belt Press
The pulp is continuously and evenly spread over the bottom belt. Then the top belt is guided onto the product. This ensures that the surface pressure increases evenly, and that a stable pulp product cake is formed.
In the press area, dewatering takes place via an L-profiled roller which ensures the liquid flows out quickly. Following this, the pulp is pressed out via press rollers with reducing roller diameters. The increasing pressure load extracts the juice from the pulp optimally and quickly.
Optional linear press rollers and edge zone pressure rollers increase the effectiveness of the belt press further. In this way, a juice yield in excess of 90% can be achieved in 2-stage operation. For stable continuous operation, high-pressure nozzles clean both belts continuously after the pomace has been removed.
---
Advantages Of The Flottweg Belt Press
- Continuous and reliable operating method with minimum operating complexity
- Consistent use of stainless steel for a high hygienic standard
- Very good resilience and durability
- Clear design and easy access for cleaning, operation and maintenance
- Efficiency and very good yield
- Automatic belt control for optimum tension and guidance of the belts
---
APEQ Process is an official distributor of Flottweg® in Malaysia.
Need a price quotation?
Enquire now
>
About Flottweg®
Flottweg® has developed and produced decanters, separators, belt presses, and systems here in Germany for over 60 years. These machines have a reputation of extremely high performance and reliability, and handle key functions in many industries.
Each individual machine that leaves Flottweg®'s Southern German factory embodies their philosophy: Flottweg® want their customers to obtain results with Flottweg® that can't be beaten. Their passion for perfection in detail and in the big picture characterizes Flottweg®'s thoughts and actions.