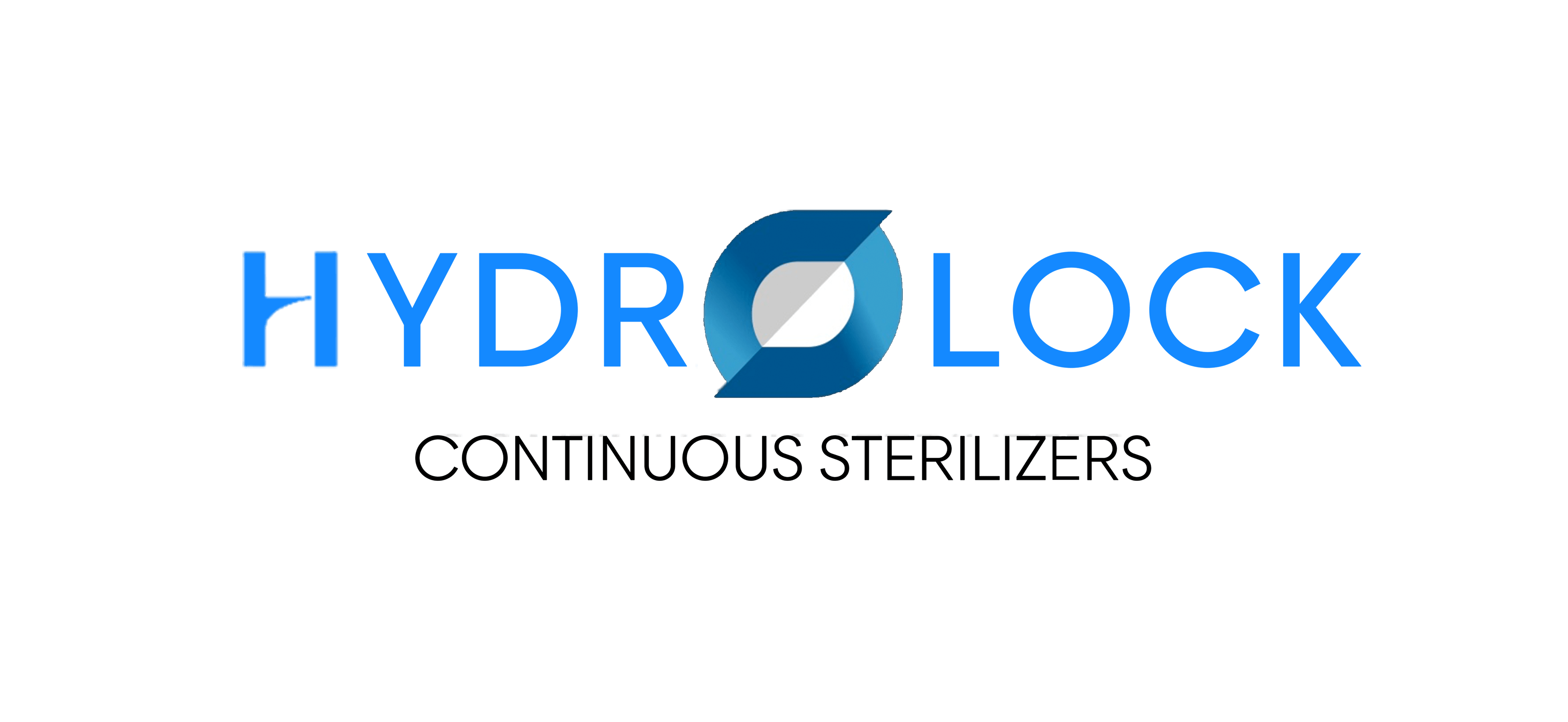 Hydrolock®
Continuous Sterilizers
For wide range of industries
The Hydrolock® family of continuous sterilizers can process all kind of packaging medium to large production scales. The unique flexibility and versatility ensure clients a long-term production, with many possibilities for new packaging.

The modular design of the machines is evolutionary and can be upgraded upon packaging specificities. Custom designed product holders and handling devices could also be added to adapt to customer's packaging. As a company who focuses on efficient sterilization technology, Hydrolock® has their own R&D team who designs and develops new machines which processes up-to-date continuous sterilizers.
Here are the Hydrolock® products we carry:

Hydrolock® Continuous Sterilizers
These industrial autoclaves are fully automated and low energy machines that focus on continuous sterilization of packaged products. In fact, it uses steam to overpressure the heating medium to sterilize the packaged product ranging from Polypropylene (PP) bottles to retort pouches. It then uses pressurized cooling and ambient cooling to chill down the product after parameters are reached.

The heating and the cooling process happen inside the chamber. The carrier in the chamber allows the packaging containers to roll and rotate along its axis throughout the full sterilizing process to ensure even heating of the products inside. Hydrolock® sterilization can be part of a 2 stage High temperature Short time Sterilization (HTST) and produced good results in term of color and organoleptic qualities.

The different models below cater needs for different type of packaging. It is possible to load multiple sizes into the same machine with suitable customization.
---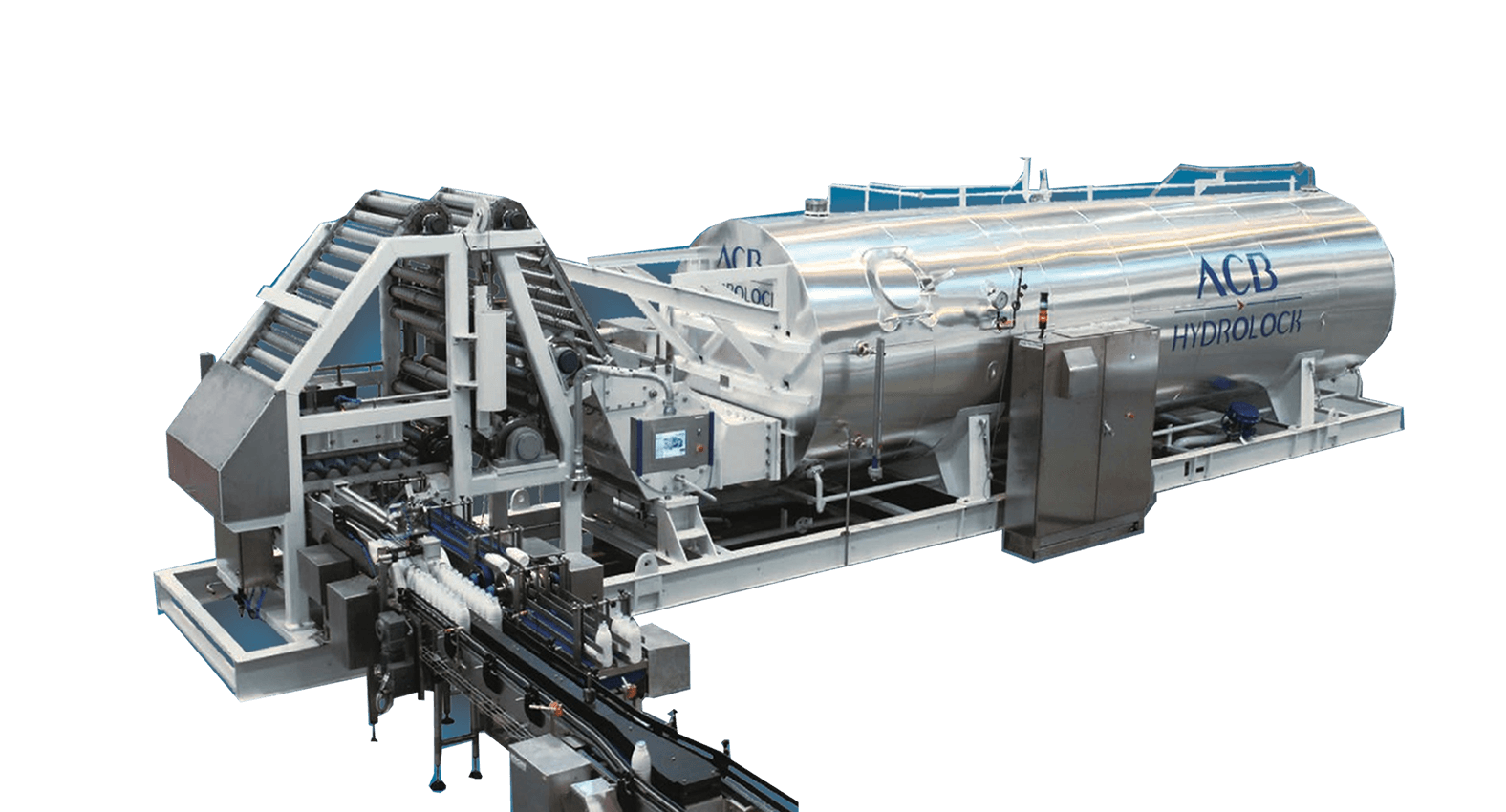 Hydrolock® Autoclave ACB
ACB sterilizes nearly all types of liquid that are contained in bottles made of Polypropylene (PP), High Density Polyethylene (HDPE) and glass. It is able to produce up to 28,000 200ml bottles per hour when applying 10 minutes holding time.
---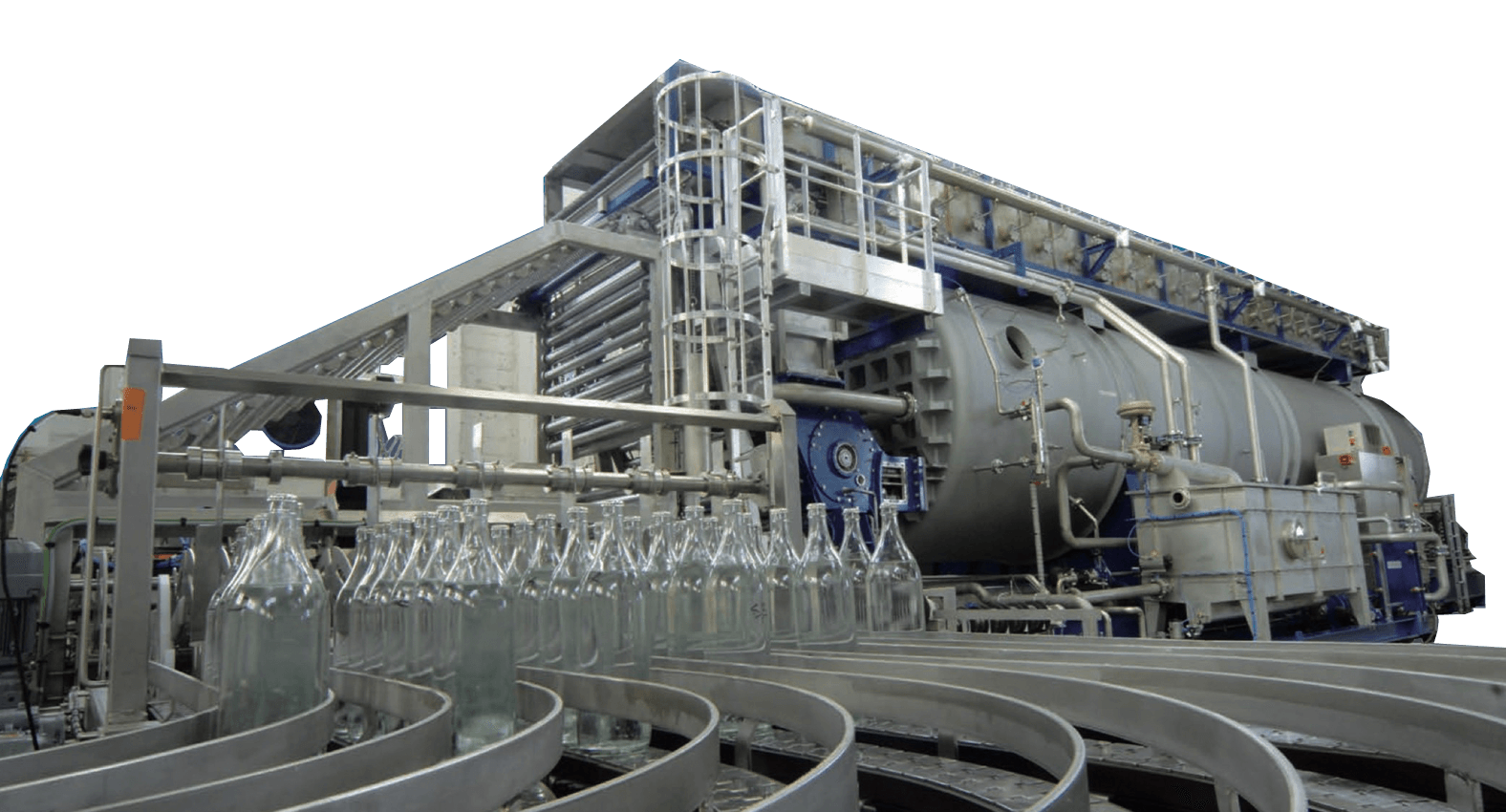 Hydrolock® Autoclave ACBV
ACBV series is designed to process glass bottles as it has a pre-heating device that recovers hot water from the cooling section, to reduce glass differential temperature and thus, minimizes the glass breakage during the heating and cooling steps. The add-on overpressure module allows sterilization of more unique packaging such as jars and twist-off caps.
---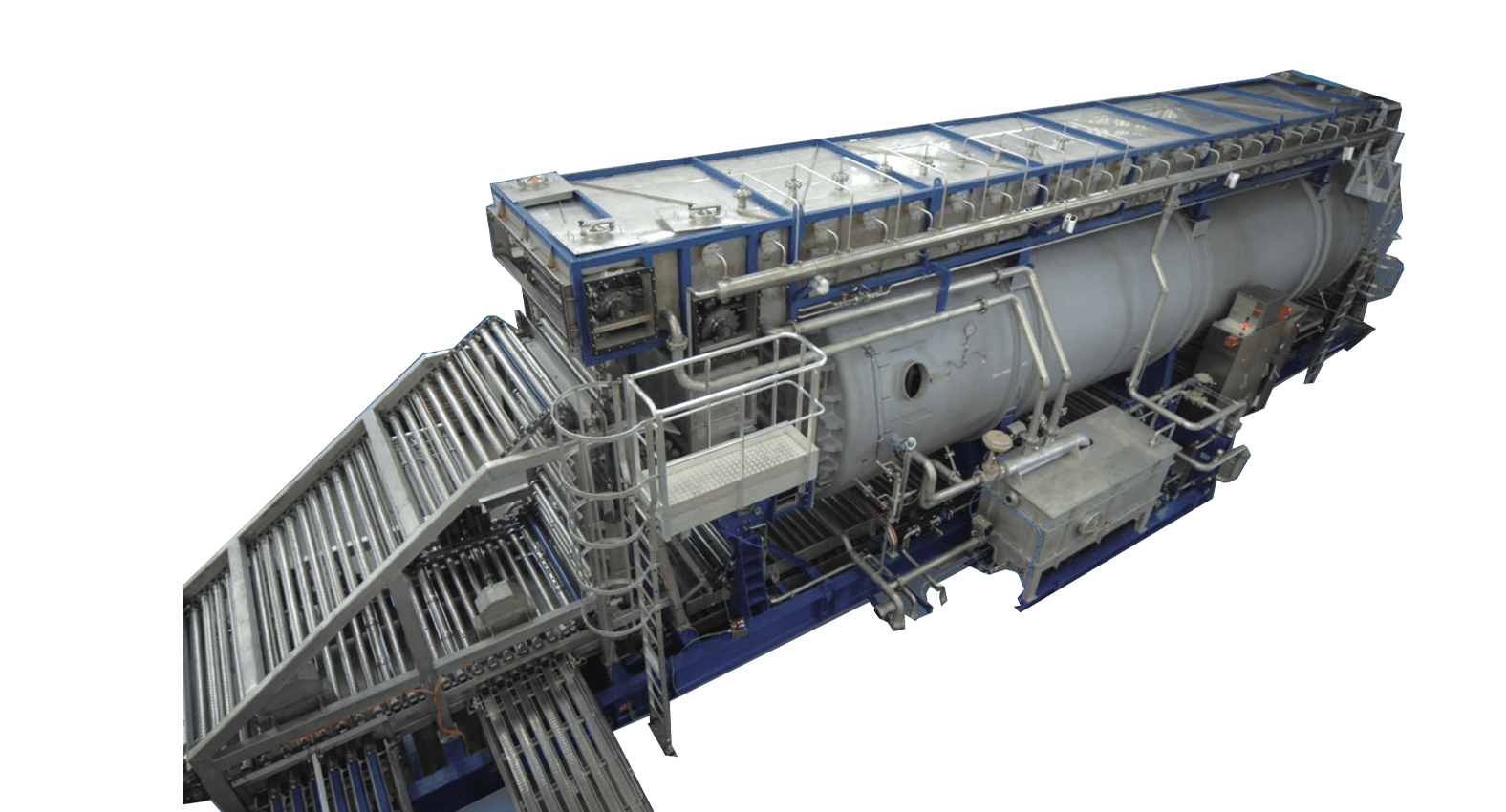 Hydrolock® Autoclave ACCT
ACCT specially handles various dimensions of tin cans. However, also has the capability to process bowls and trays made of PP and HDPE when opt to use a custom design product carrier.
During sterilization, overpressure steam air is used to heat plastic packaging and saturated steam is used for tin cans. Pre-heating is possible in ACCT to save energy and manage product differential pressure with the exterior environment. A CCT produces up to 690 150ml cans per minute when applied 15 minutes holding time.
---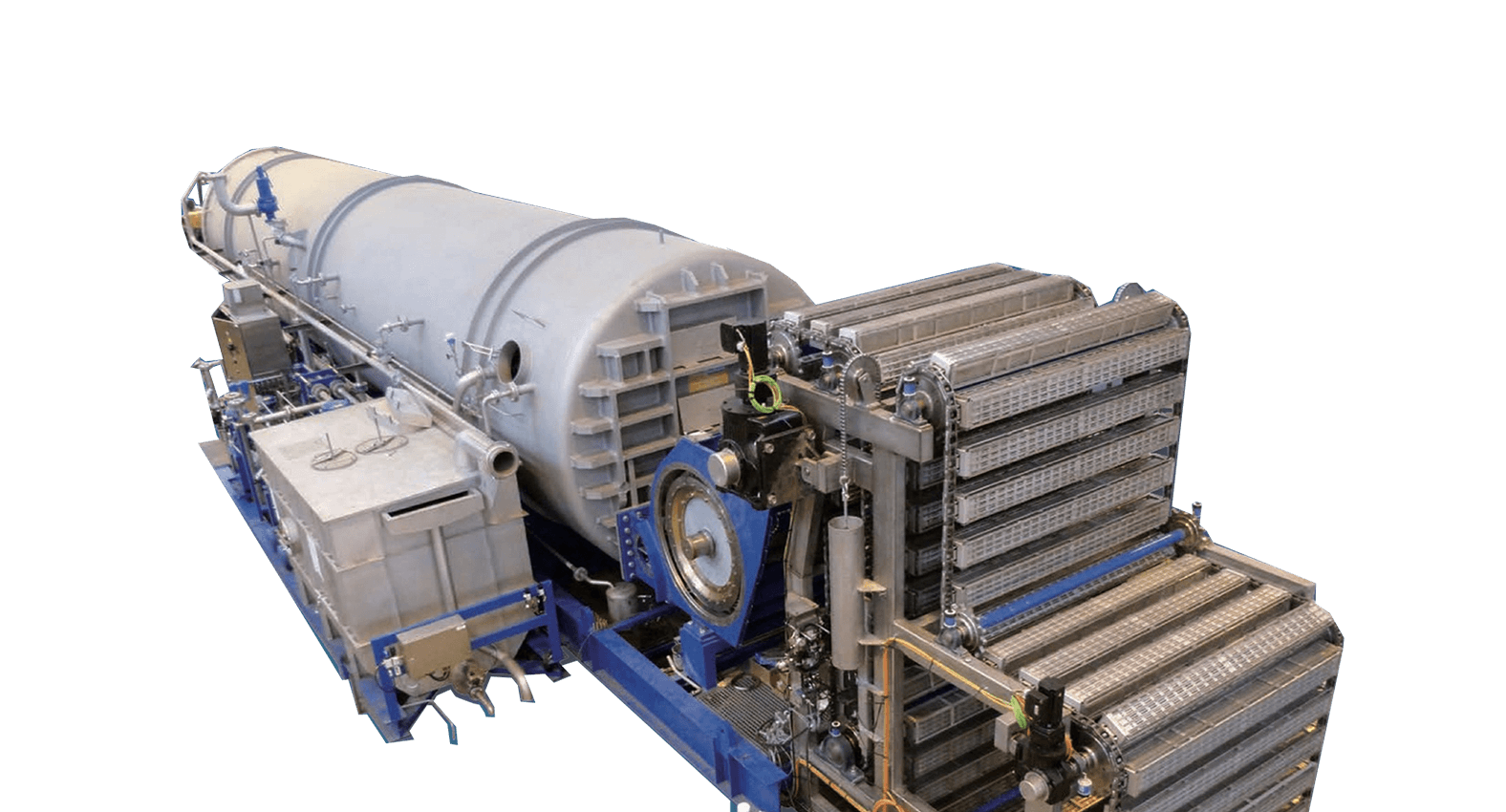 Hydrolock® Autoclave ACS
This series processes in food pouches and flat trays, sterilized using steam air forced process. As packaging of such irregular shape could not roll freely, ACS provides a semi-static process with overpressure to guaranty the integrity of the packaging. Customers could also choose to have an automatic or a semi for the loading section.
---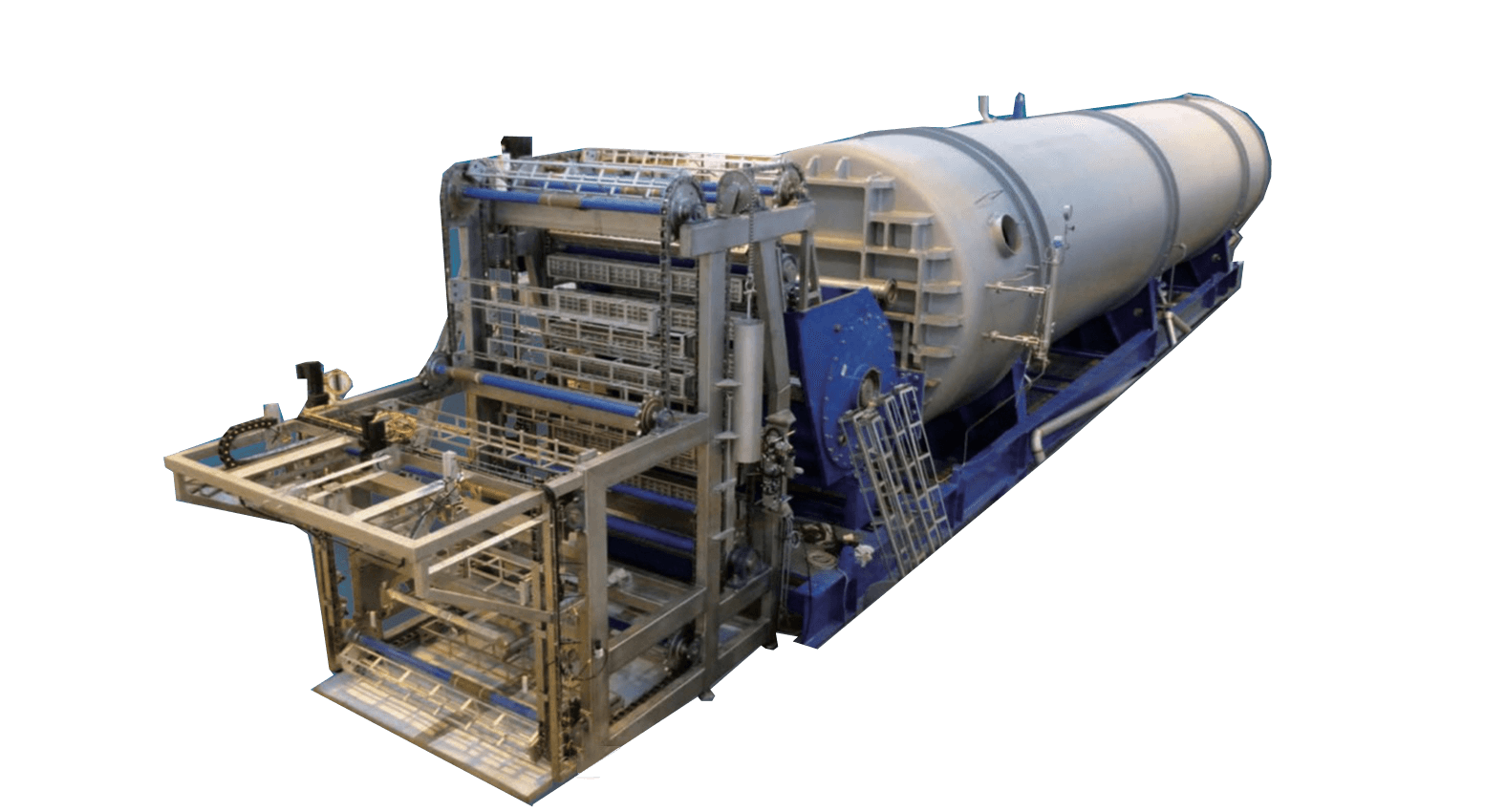 Hydrolock® Autoclave ACP
ACP series is specialized to sterilize flexible pouches, such as Ready-to-eat (RTE) meal pouches and babyfood pouches. It uses steam air heating to continuously carry out the retort process, while contains some flip over of pouches during the sterilization, a semi-static procedure.
---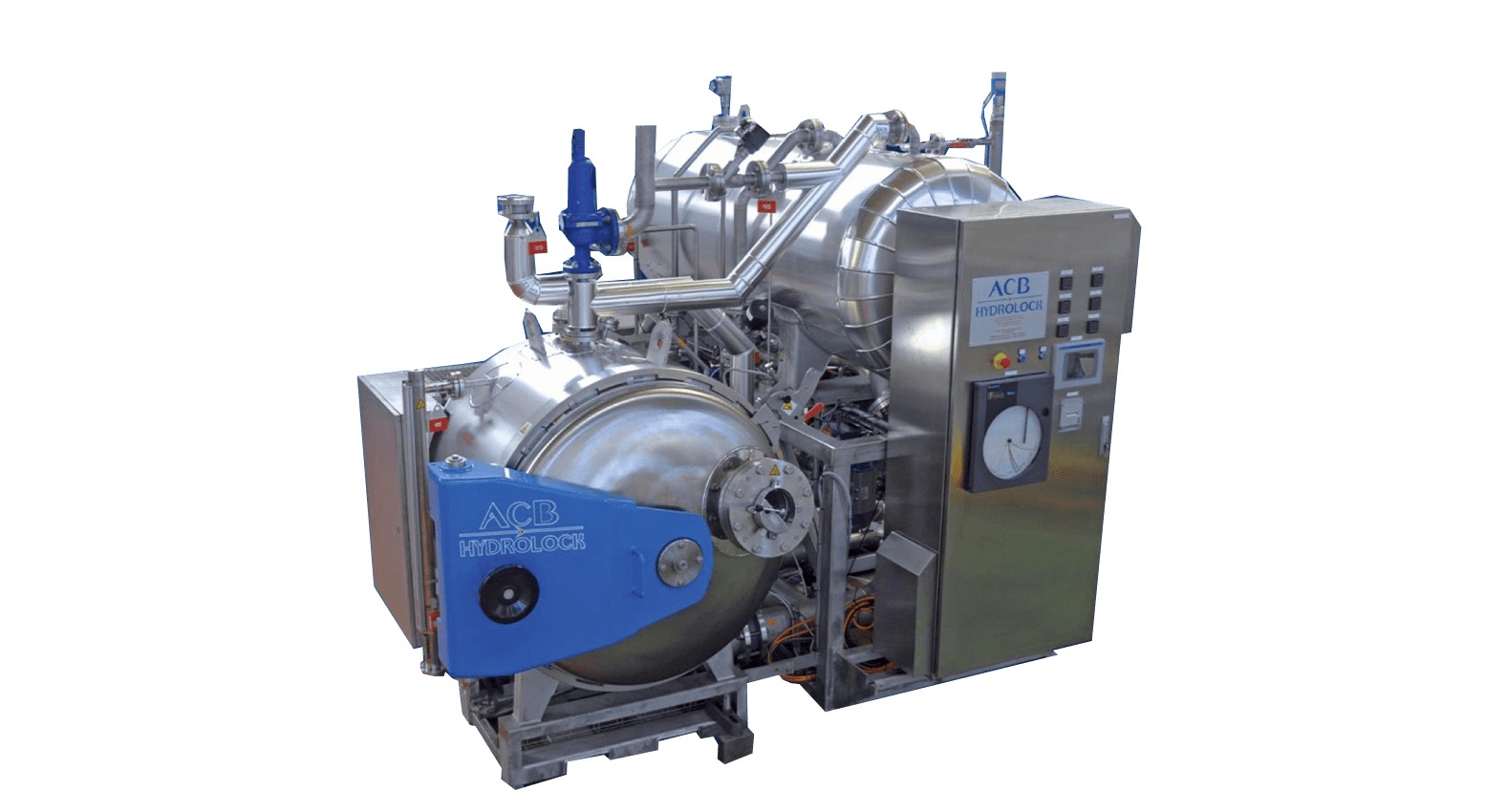 Hydrolock® SteriPilote
Steripilote is able to simulate Hydrolock® retort processes, from batch process, hydrostatic tower, sterilization with different heat media (immersion, steam, steam air, water cascade), with or without rotation. This simulator is used by R&D and process development teams for creation and validation of new recipes.
---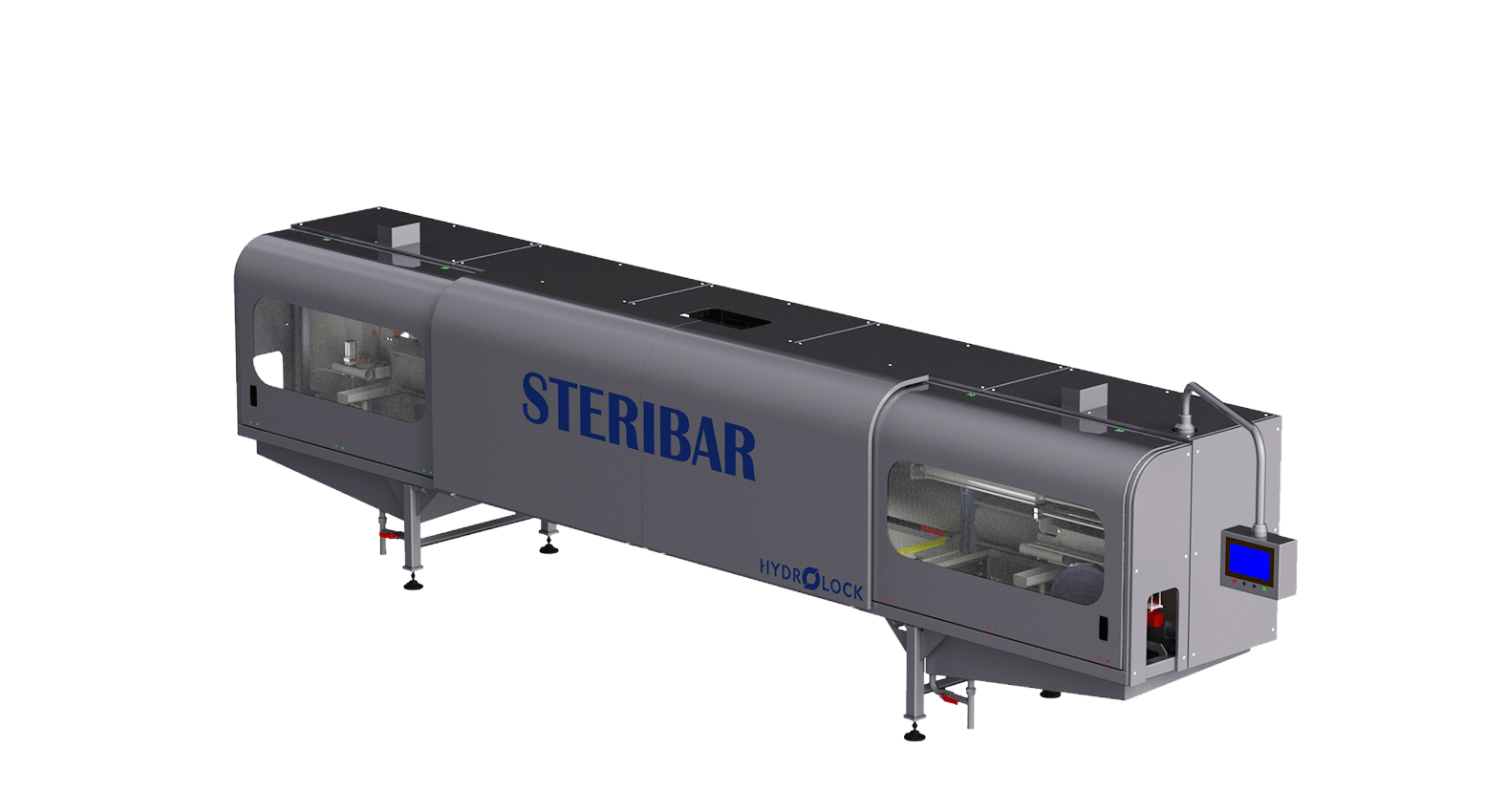 Hydrolock® Steribar HPP
An equipment that processes High Pressure Processing, Steribar HPP lengthens shelf-life of liquids, and was designed to preserve fresh juices along with their organoleptic qualities.
---
APEQ Process is an official distributor of Hydrolock® in Malaysia.
Need a price quotation?
Enquire now
>
About Hydrolock®
Hydrolock® is an international supplier of continuous autoclave sterilizers and high-tech retorts for the sterilization of food and beverage products. They dedicate to the manufacture of retorts for foods, glass packaging, PP and HDPE bottles, pharmaceutical solution, also sterilization of canned fish and meat as well as pet food.
Maintenance wise, Hydrolock® has a storage of specific parts in Nantes France ready to be shipped all over the world. A remote access to the production unit is available in order to help client's diagnosis in case of failure on a sterilization line.