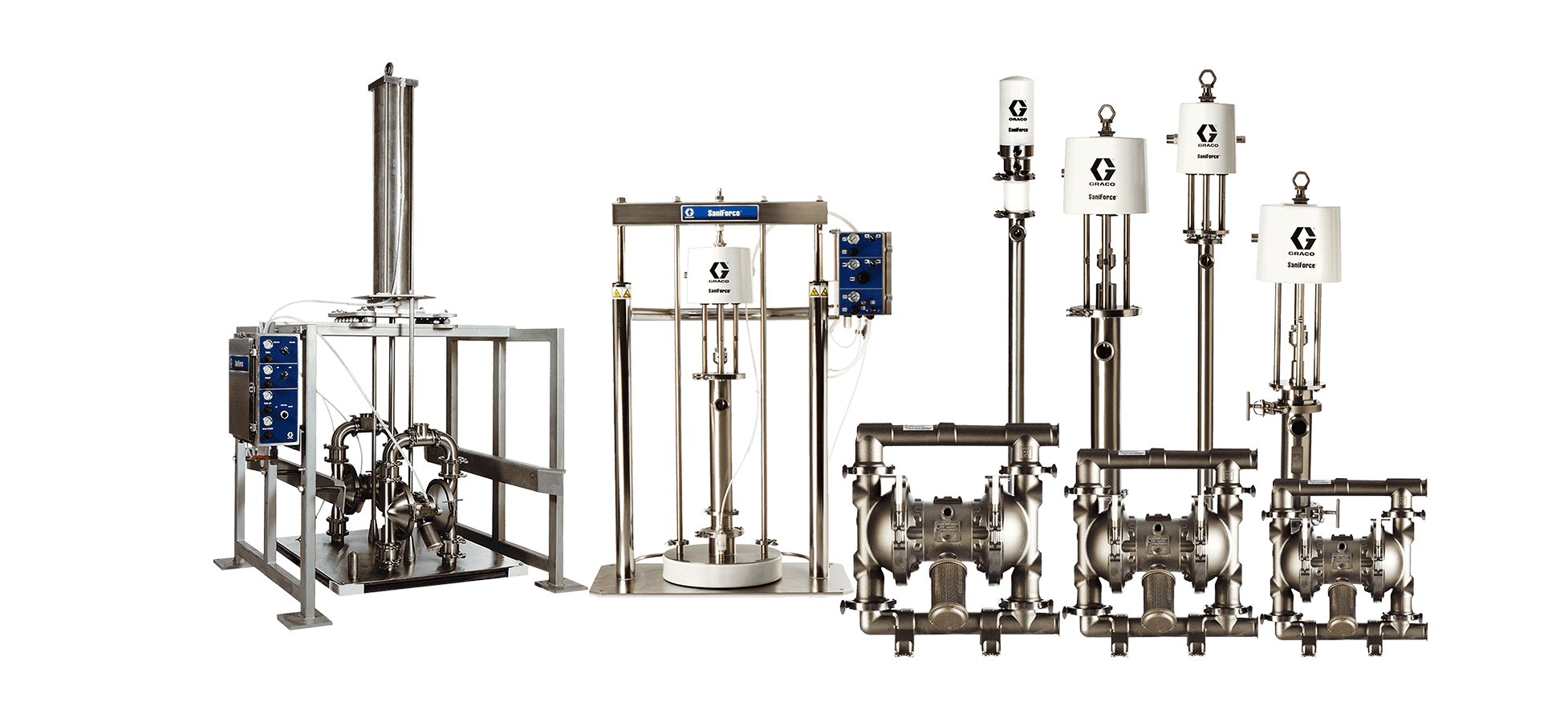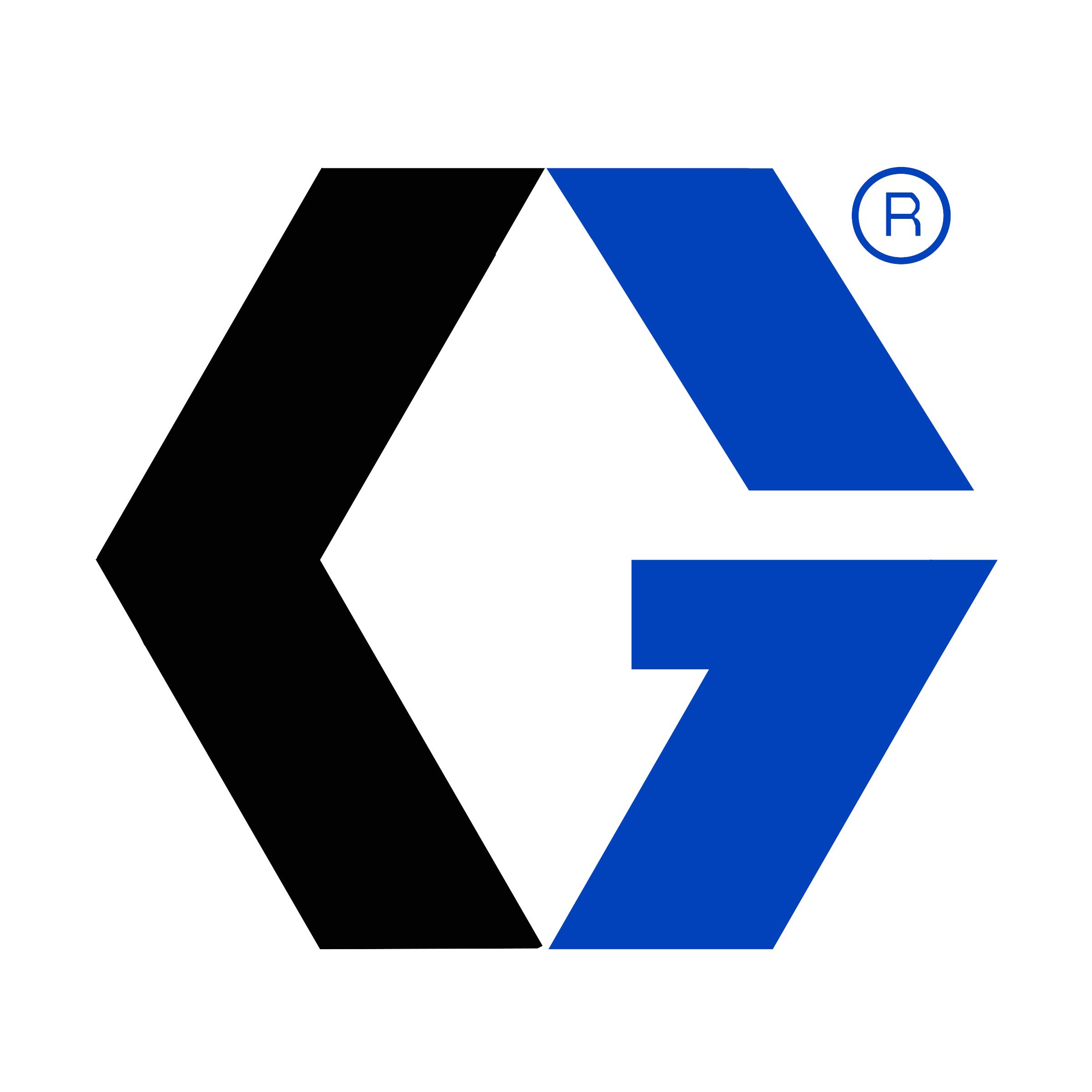 Graco SaniForce®
Solutions for
Sanitary Applications
The new SaniForce® line saves your time and money by pumping the most difficult materials - quickly and safely! They work well with a broad range of viscosities, and feature easy to clean, quick knockdown design.
All SaniForce® products are FDA-compliant. The product range comprises of:

SaniForce air-operated diaphragm pumps are the best, most durable, lube-free air valves in the industry.
Air valves improve your process and reduce downtime. They are ideal for applications requiring high flow rates and portability. Being externally serviceable, you can count on quick, inexpensive repairs too!
* Shown pumps are: 
Saniforce 1590 HS Diaphragm Pump
Saniforce 1590 Double Diaphragm Pump
Saniforce Meat/Poultry Flapper Pump
---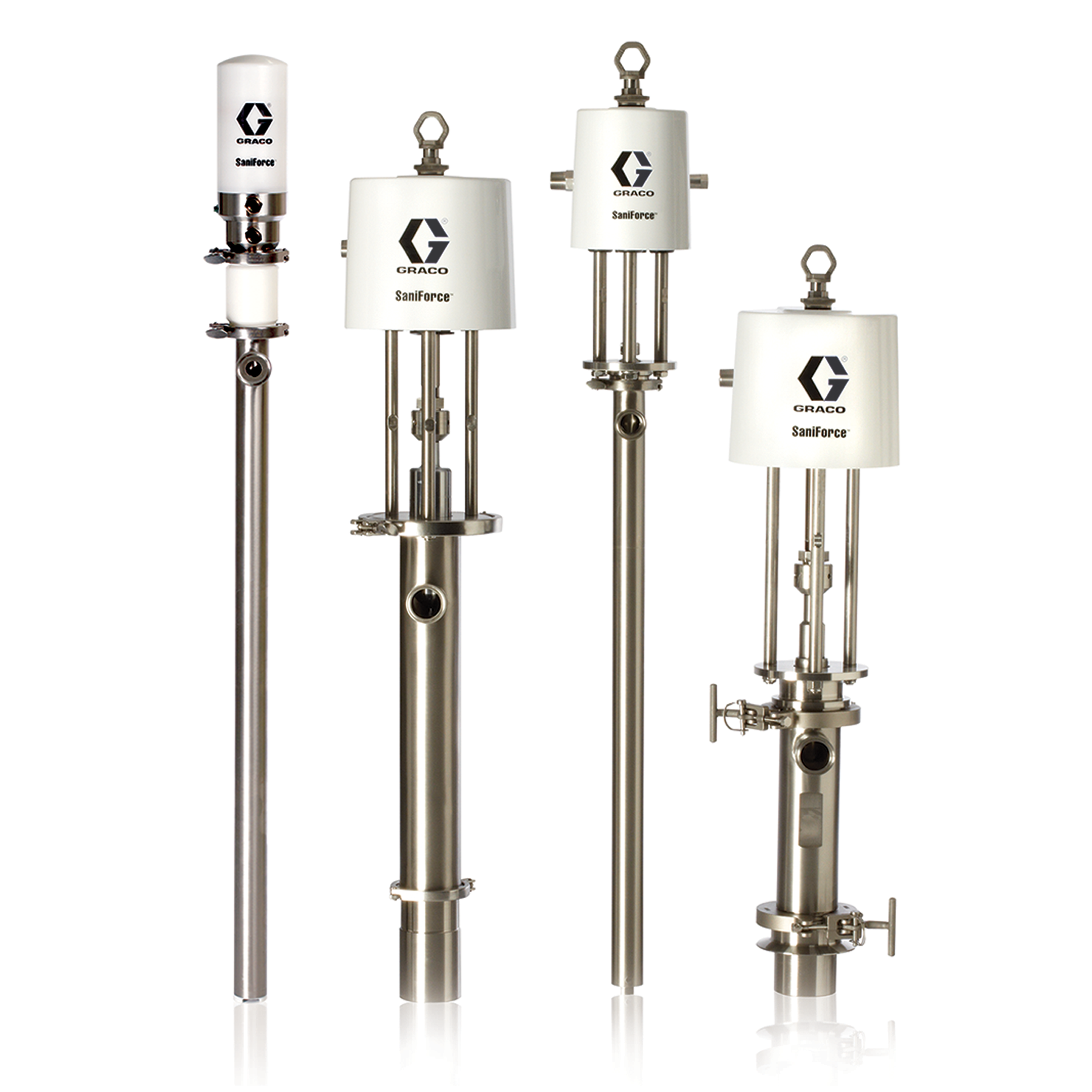 SaniForce piston pumps can move the most difficult materials
SaniForce piston pumps have fluid pressure up to 1,200 psi. The air motors improve serviceability, increase efficiency and offer a lower cost of ownership. The quick knockdown lowers are made with 300 series stainless steel for long-lasting durability.
* Shown pumps are: 
SaniForce 2:1 Piston Pump
SaniForce 5:1 Piston Pump
SaniForce 6:1 Piston Pump
SaniForce 12:1 Piston Pump
---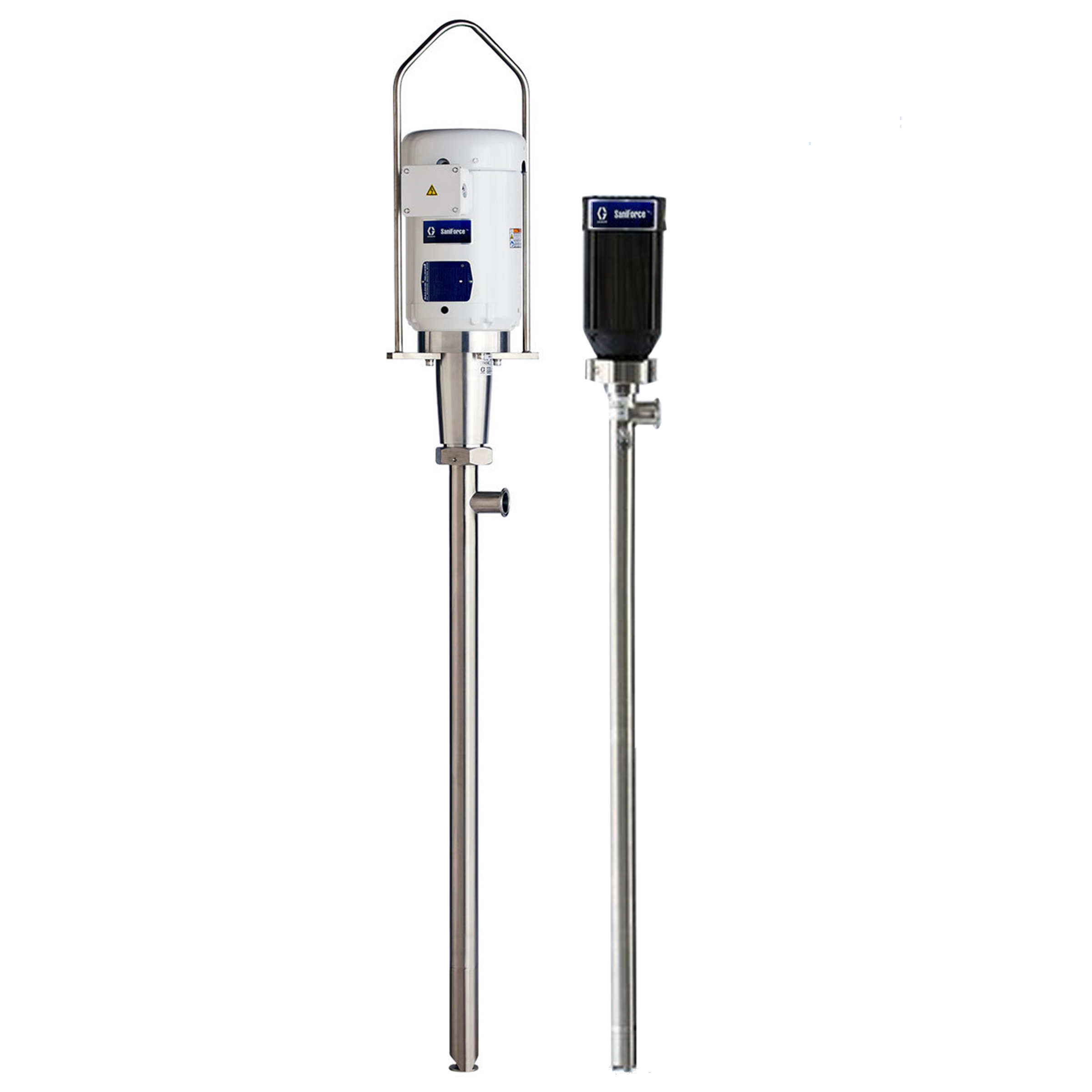 SaniForce Electric Drum Pumps save your money by increasing efficiency
Reduce downtime at your facility with the SaniForce Drum Pump, a centrifugal drum pump featuring easy tri-clamp connections and a simple design to reduce time spent sanitizing and maintaining the pump.
* Shown pumps are: 
SaniForce Electric Centrifugal Drum Pump
SaniForce Electric Progressive Cavity Drum Pump
---
Eliminate unnecessary pump failures and improve energy efficiency with SaniForce e-Series pumps.
Graco's SaniForce e-Series electric-operated double diaphragm pump features patent-pending technology to allow pump to stall under pressure preventing clogged lines or closed valves. Seal-less diaphragm pump design eliminates leaking and failures due to run-dry pump conditions.
* Shown pumps are: 
SaniForce 1040e AC Motor
SaniForce 1040e BLDC Motor

---
Need to transfer 1,000,000 cps** materials? No problem!
Graco's SaniForce drum unloaders can evacuate medium to high viscosity products from their original 208 liter (55-gallon) containers, in less than 5 minutes – without diluting the material.
* Shown images are: 
SaniForce 5:1 Sanitary Drum Unloader
SaniForce 3150 HS Drum Unloader
SaniForce 3150 BES
SaniForce Elevator
About Graco®
Founded in 1926, Graco® is a world leader in fluid handling systems and components. Graco® products move, measure, control, dispense and apply a wide range of fluids and viscous materials used in vehicle lubrication, commercial and industrial settings.
The company's success is based on its unwavering commitment to technical excellence, world-class manufacturing and unparalleled customer service. Working closely with qualified distributors, Graco® offers systems, products and technology that set the quality standard in a wide range of fluid handling solutions.