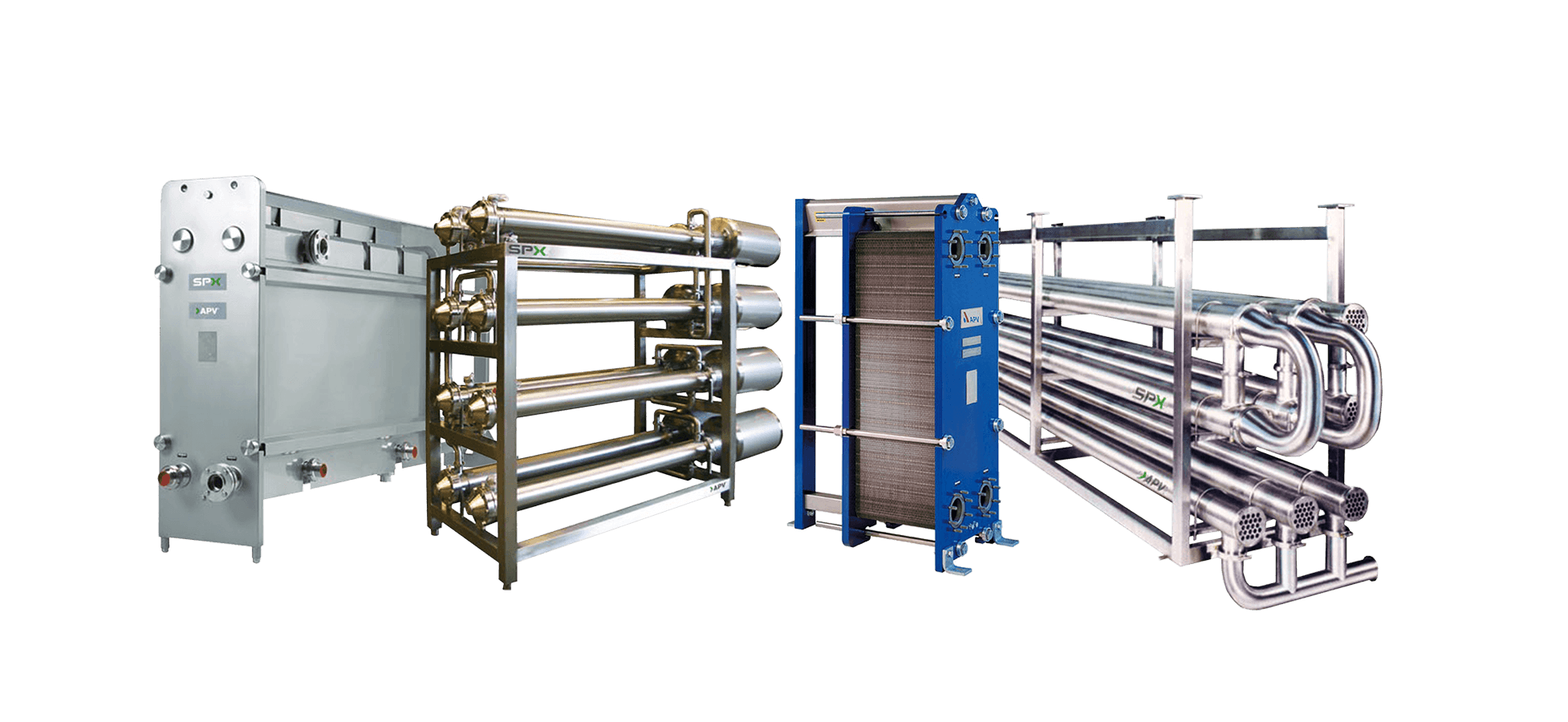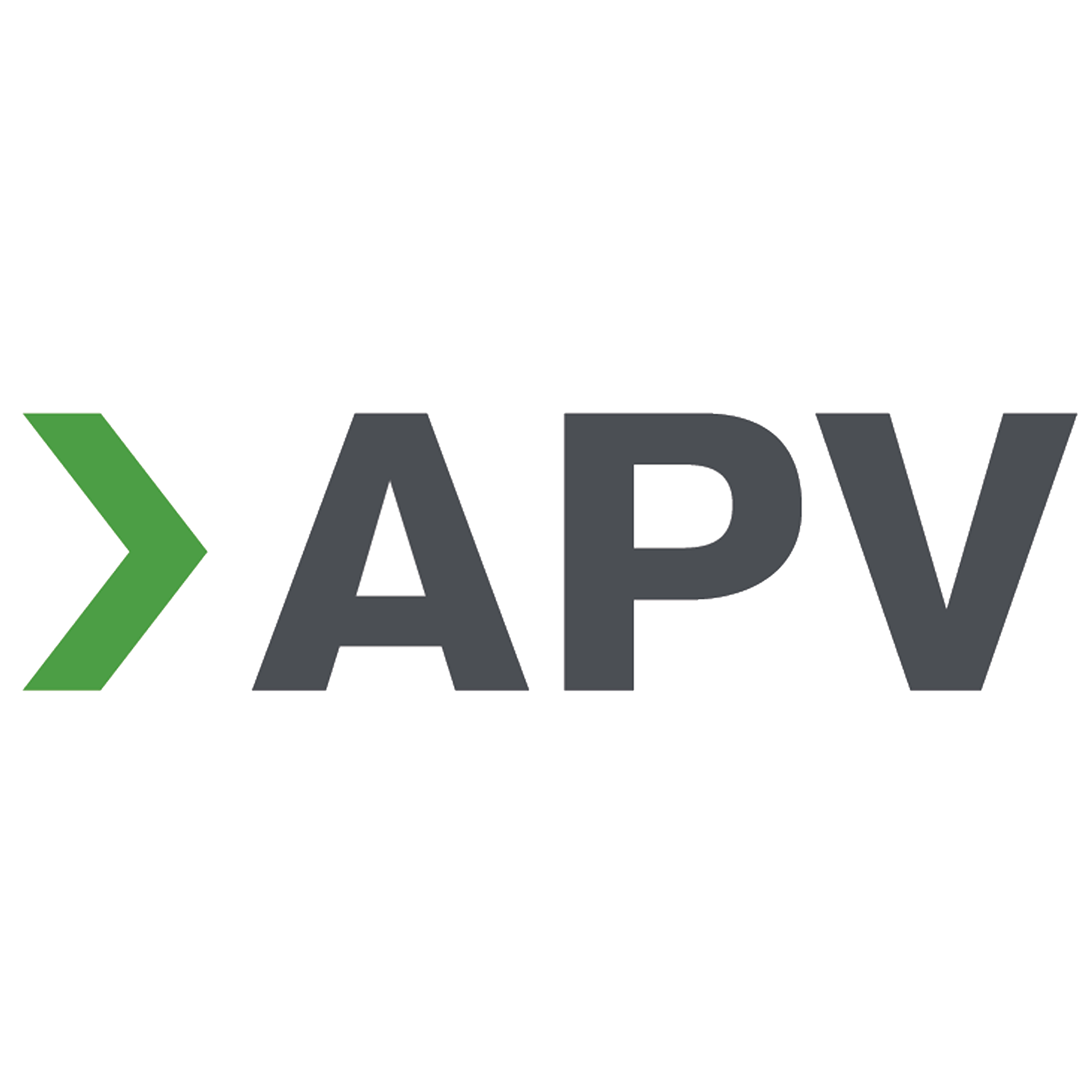 SPX FLOW - APV Heat Exchanger
Managing
Heat Transfer
The global applications for industrial heat exchangers calls for a wide and deep product range, putting great demand on the equipment.
Be it sanitary processes or processes requiring very small flow, APV has the perfect heat exchanger for the fit. The following heat exchangers are each very different from one anothers:

Plate Heat Exchanger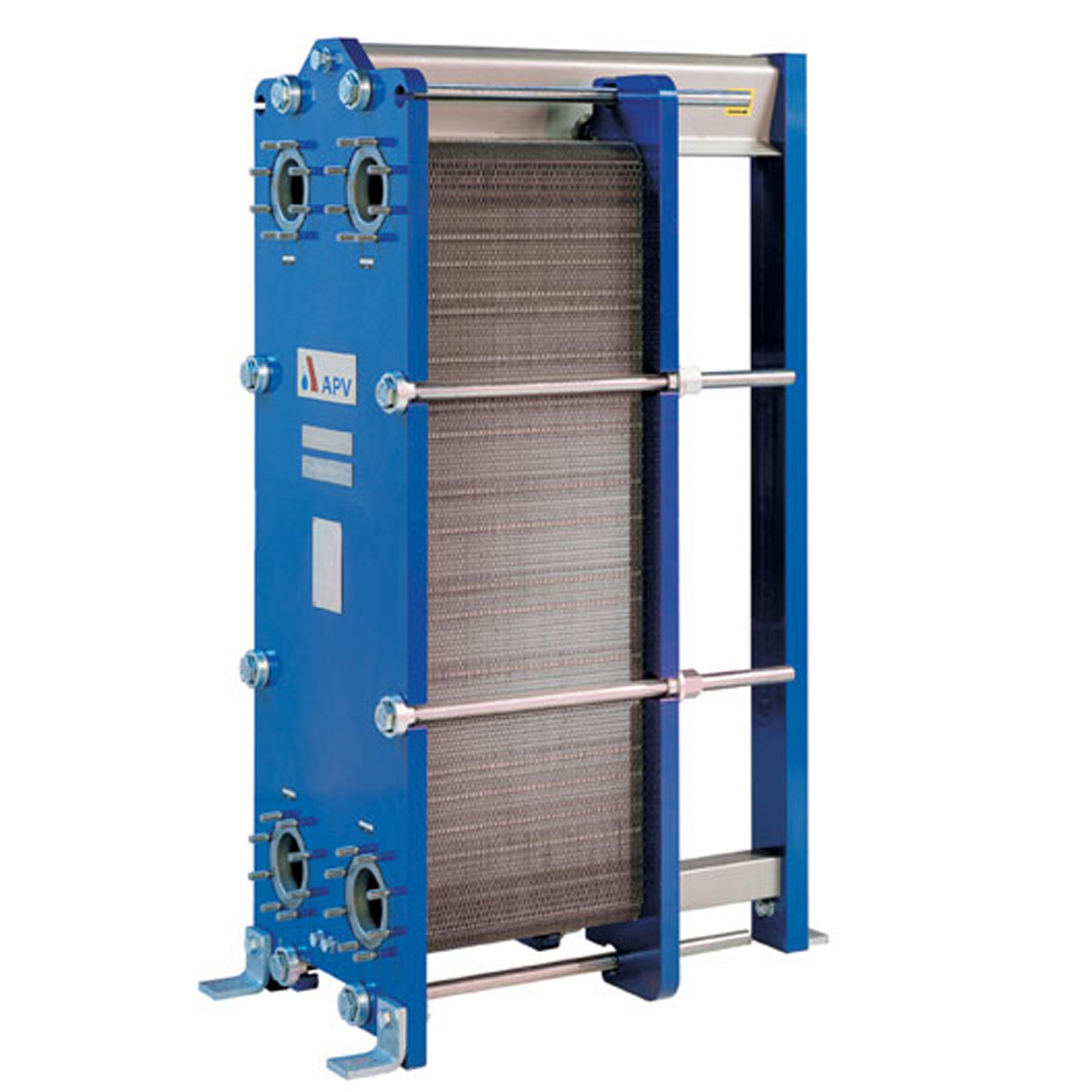 Gasketed Plate Heat Exchanger - Industrial
SPX FLOW's portfolio of APV ParaFlow is designed to match your needs, whether this is for very small flows, or the extra-large kind, up to 4500 m3/h. With our selection of materials, connections and accessories, we can supply equipment for practically every heat transfer need. The ParaWeld and Paramine technologies expand the boundaries for gasketed plate heat exchangers.
---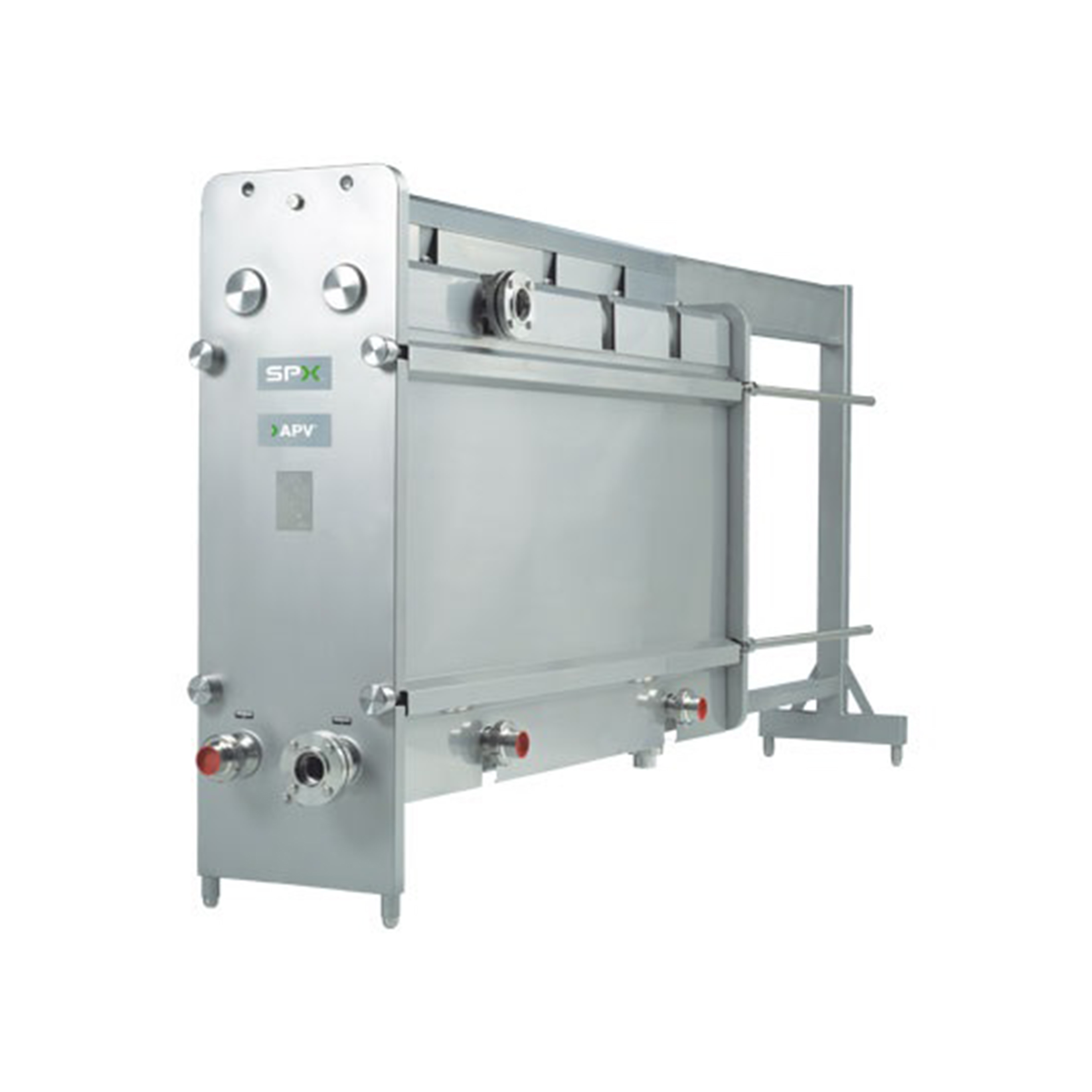 Gasketed Plate Heat Exchanger - Sanitary
Sanitary applications represents a unique set of requirements to solve the job and live up to the strong demands for cleanability, accessability and product integrity. APV's sanitary portfolio is known for its high quality and value adding features. With a wide range of frame compression technologies, connection types and sanitary accessories for increased cleanability, APV can cover all heat transfer needs in the sanitary market place.
---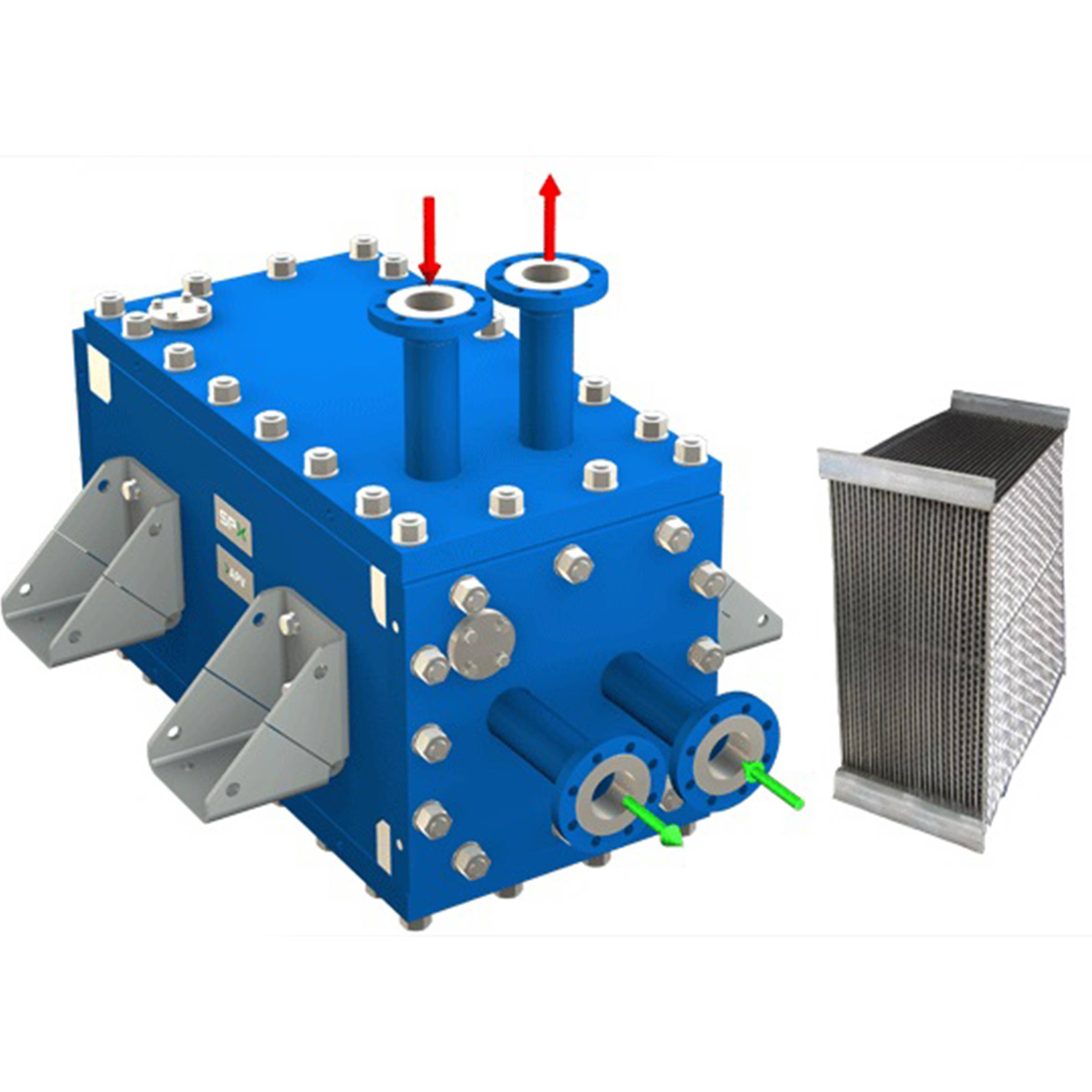 Fully Welded Heat Exchanger
Based on a multi-flexible configuration, the APV Hybrid Fully Welded Plate Heat Exchanger is designed to operate under harsh conditions and high temperatures. A smaller footprint and easy access makes the high-pressure cleaning of the Hybrid plates fast and effective. The Hybrid * Welded Plate and Frame Heat Exchanger was created for severe conditions where other technologies are prone to failure, short operating lifecycle, or reduced operational efficiency.
* The Hybrid model can be mounted horizontal or vertical and includes 6 basic models, each available in various standard configurations
---
Tubular Heat Exchanger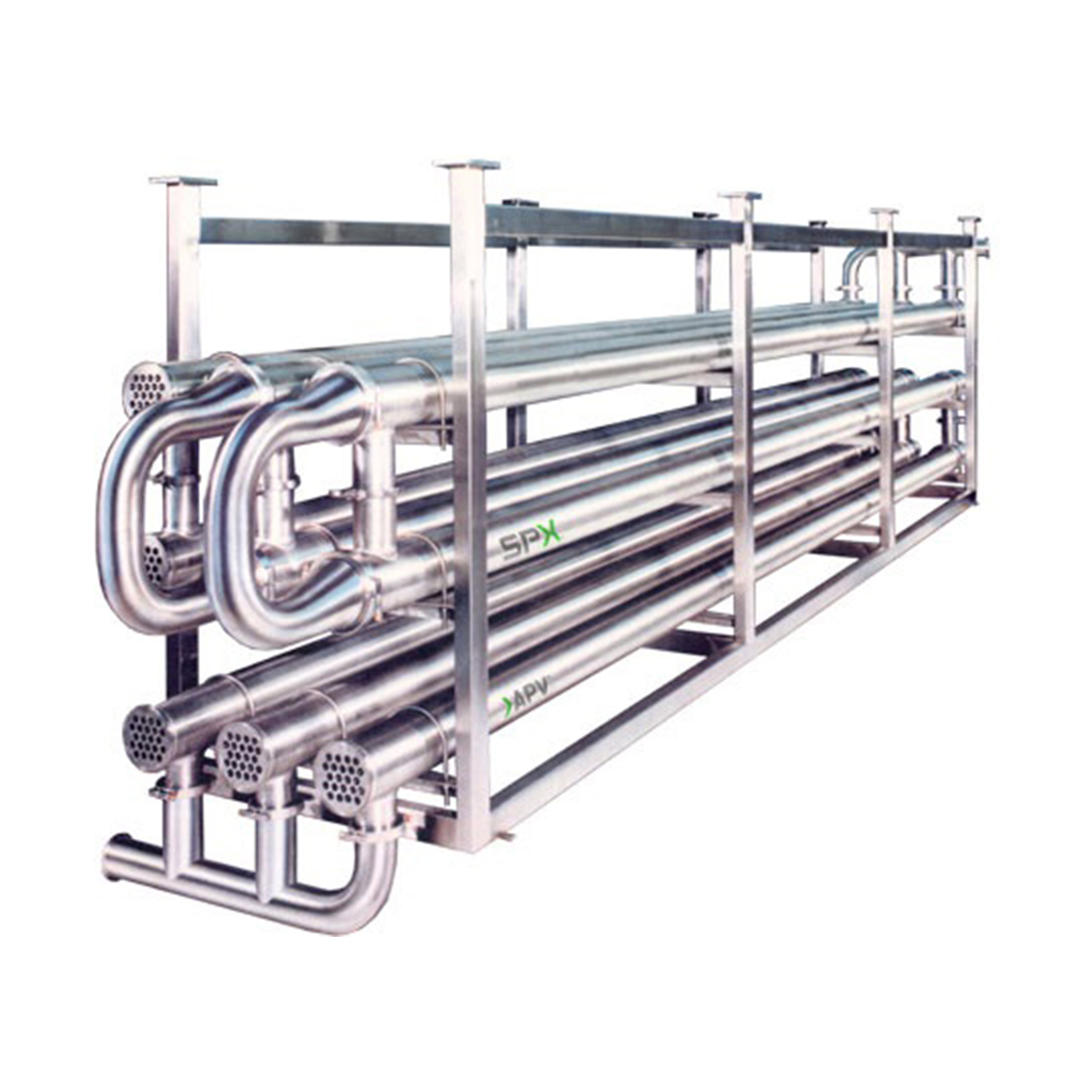 Tube-in-Tube Heat Exchanger
APV ParaTube (tube-in-tube heat exchangers) can be supplied with either straight tubes or corrugated tubes. They all follow a similar construction format with a single tube or number of smaller tubes enclosed within an outer shell. They are available in the four configurations and can be manufactured as a fully-welded design, with removable end caps or with built-in thermal expansion protection of O-rings or packing between the shell and tube bundle.
---
Tubular Heat Exchanger
SPX FLOW has developed a new, patented direct product regenerative Product-to-Product (P2P) type of THE. This latest heat transfer solution has the highest hygienic standards and offers increased heat transfer efficiency over a traditional THE; reducing energy consumption, size and capital investment.
---
Scraped Surface Heat Exchanger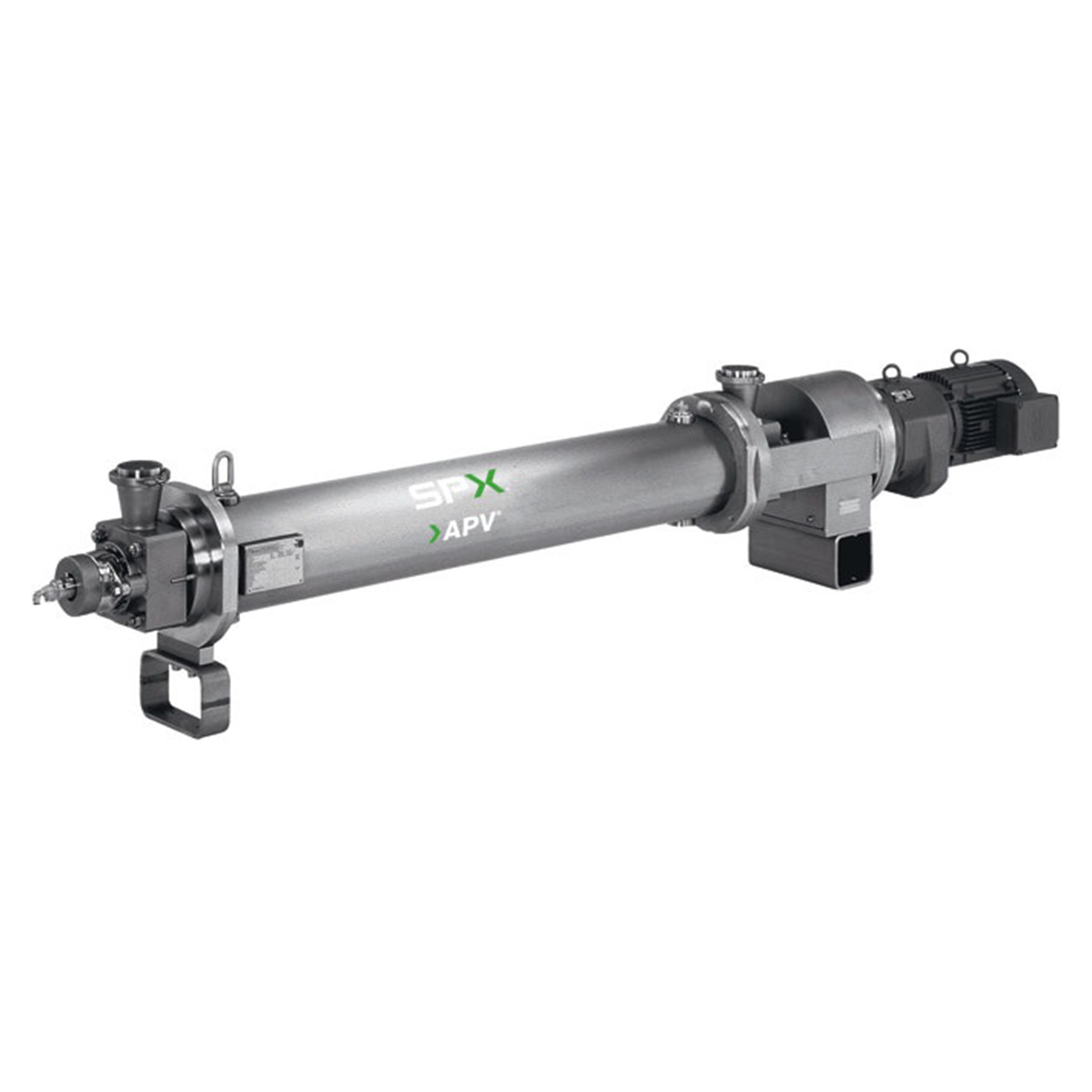 Scraped surface heat exchanger - HDRT and HEXRT
HDRT and HEXRT heat exchangers are designed to handle highviscosity products in heating, cooling, crystallising and freezing applications. They feature a horizontal cylinder arrangement based on a rigid construction with demountable cylinder end doors and strong bearings outside the product area to support each dasher end. The advantages include high-precision machined Duplex quality and Bimetal cylinders, rendering it suitable for evaporative refrigerants (R717 and R401a etc.), product pressure of up to 30bar and availability of various dasher diameter and configurations.
---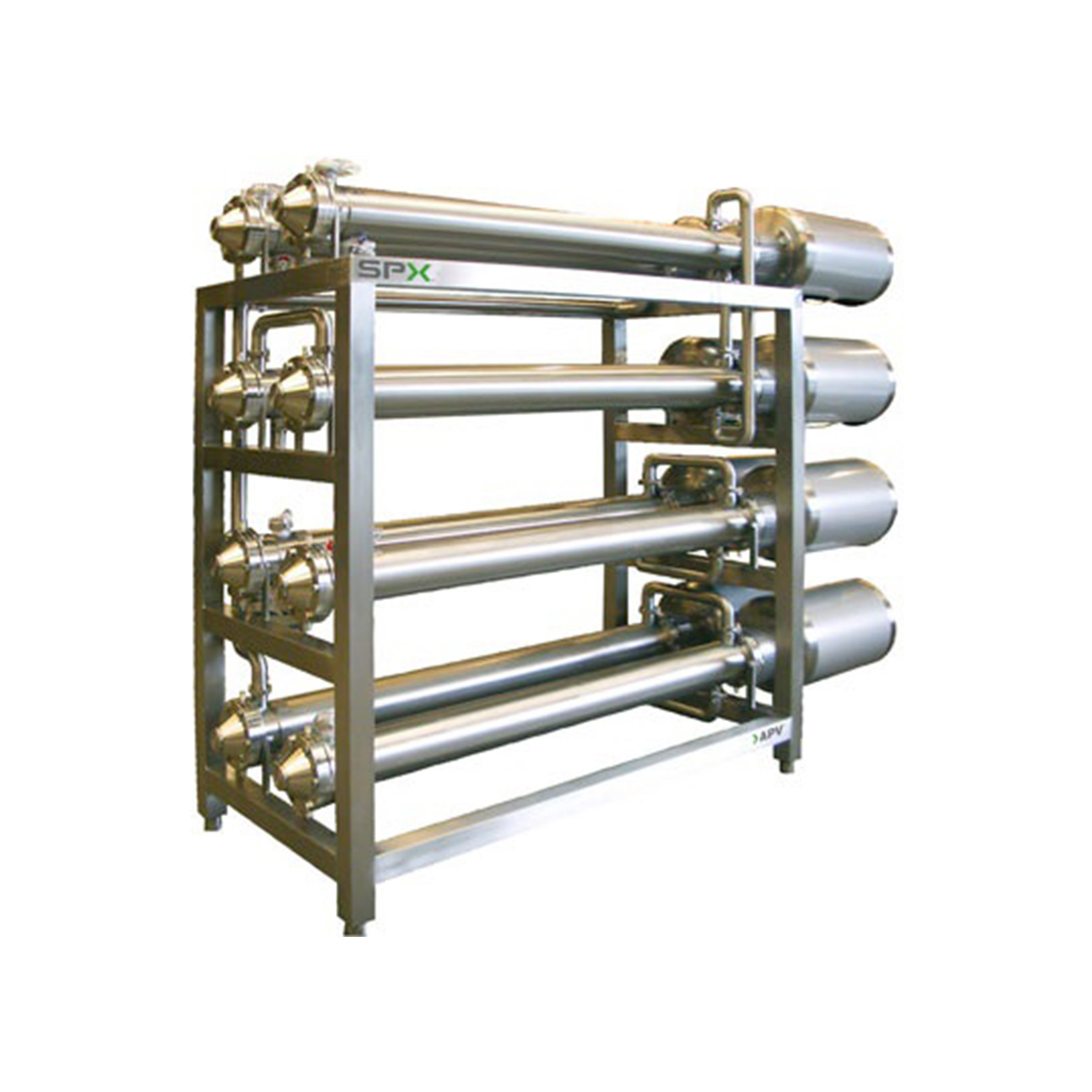 Scraped Surface Heat Exchanger - HT 680*
Horizontal cylinder arrangement mounted on a frame. The dasher is supported in both ends outside the product area, which makes the dasher pressure balanced. The heat exchanger type HT 680 is designed according to the EHEDG and 3A requirements. Approval is still pending.
---
Scraped Surface Heat Exchanger - VT+ /HT+
Based on a multi-flexible platform, the APV VT+/HT+ scraped surface heat exchanger is designed to operate under harsh conditions where other heat exchanger technologies can fail or cannot sustain operational efficiency over a longer period. Designed to heat or cool medium and high viscous products with or without particles under sanitary conditions, the APV VT+ / HT+ scraped surface heat exchanger comes in two basic configurations:
---
APEQ Process is an official distributor of SPX FLOW, APV in Malaysia.
Need a price quotation?
Enquire now
>
About SPX FLOW and APV
Based in Charlotte, North Carolina, SPX FLOW innovates with customers to help feed and enhance the world by designing, delivering and servicing high value solutions at the heart of growing and sustaining our diverse communities.
APV, an SPX FLOW Brand, provides a unique range of highly functional solutions, systems and products that address key business drivers. SPX FLOW bases its APV solutions on advanced technology products including pumps, valves, homogenizers, mixers and heat exchangers, as well as production efficiency experience, development expertise, maintenance management and regulatory compliance.